Swapin's Roadmap: Innovative Payment Solutions Between Crypto and Banks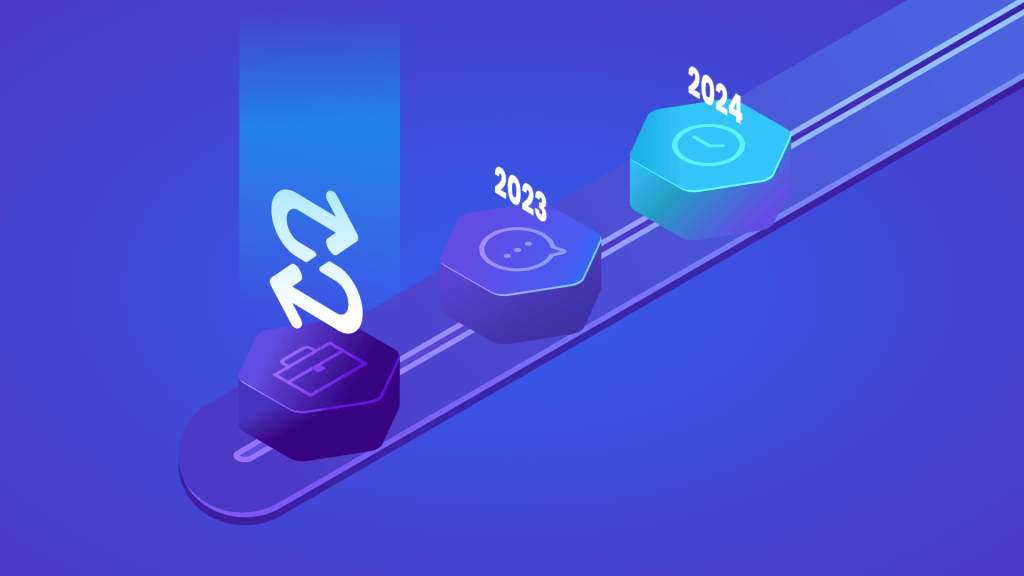 Since Swapin's inception in 2017, we've been at the forefront of bridging the gap between cryptocurrencies and traditional banking. Today, we are excited to share with you an in-depth look into what we have developed in the last 2 years, Swapin's roadmap for the near future, and we invite you to tell us what you're looking forward to most from Swapin. So let's dive in.
2022: Laying the Groundwork
Revamped Swapin Web App Launch: Redesigned interface to enhance your user experience with advanced backend optimizations for smoother accessibility and transaction processes.
Affiliate Dashboard Introduction: To allow our business partners to track and manage their contributions and rewards effortlessly
Expansion to 10+ Cryptocurrencies Supported: Supporting transactions with more than top 10 cryptocurrencies, including Bitcoin, Ethereum, LTC, USDC, and USDT, across 6 blockchains, ensuring wide variety of supported coins for your crypto off-ramping needs.
Web3 Wallet Integration: Now you can connect your crypto wallet via Connect Wallet button for easy and quick transaction process experience. Swapin solution seamlessly integrates with leading Web3 wallets, including Metamask, Ledger, Trust Wallet, Argent, Crypto.com, Exodus, and Rainbow.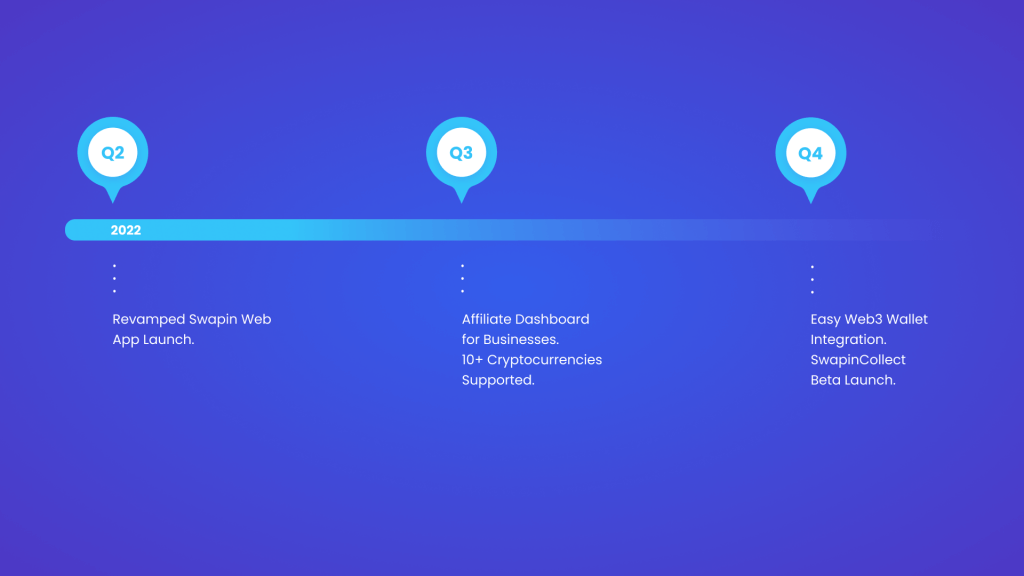 2023: Leveling Up Your Experience
Easier KYC Process: Your security is important to us, and so is your time. We introduced a tech solution for ensuring user identity security, without compromising user experience. You can complete your Starter Level identification in less than 2 minutes and begin using Swapin solutions, powered by industry-leading verification provider Veriff.
VASP License Renewal: Swapin continues to operate as a fully licensed, non-custodial payment provider in the EU under the license FVT000088, affirming our commitment to trust and compliance.
The Launch of SwapinCollect: Empowering traditional businesses to accept crypto payments from their customers via an easy payment link while they receive fiat directly in their business bank account.
Enhanced Transaction Security with HAWK.AI: We partnered with innovative AI monitoring to ensure every transaction's security and compliance. Additionally, we work with other trusted risk management and crypto compliance solutions, such as Namescan and Valega, to ensure the safety of your transactions and personal data.
Wallet Connect 2.0 Update: We upgraded to the newest version for an even smoother connection with your Web3 wallet.
Swapin Partners API Initiative: We began creating documentation and API development for Swapin Partners API.
Introduction of Swapin's Dedicated IBANs: We launched Dedicated IBANs to customers in EEA and Switzerland, allowing you to make payments in your name when off-ramping crypto, and on-ramp with ease when purchasing cryptocurrencies thanks to this feature.
SwapinBuy Official Release: Now you can easily buy cryptocurrencies (Bitcoin, Ethereum, and USDT) with EUR straight from your bank account using SwapinBuy.
SwapinWidget Beta Introduction: We've introduced an easy plug-and-play integration for buying and selling cryptocurrencies to a select few Web3 platforms for their end users. Stay tuned as we reveal more about this newest solution by Swapin.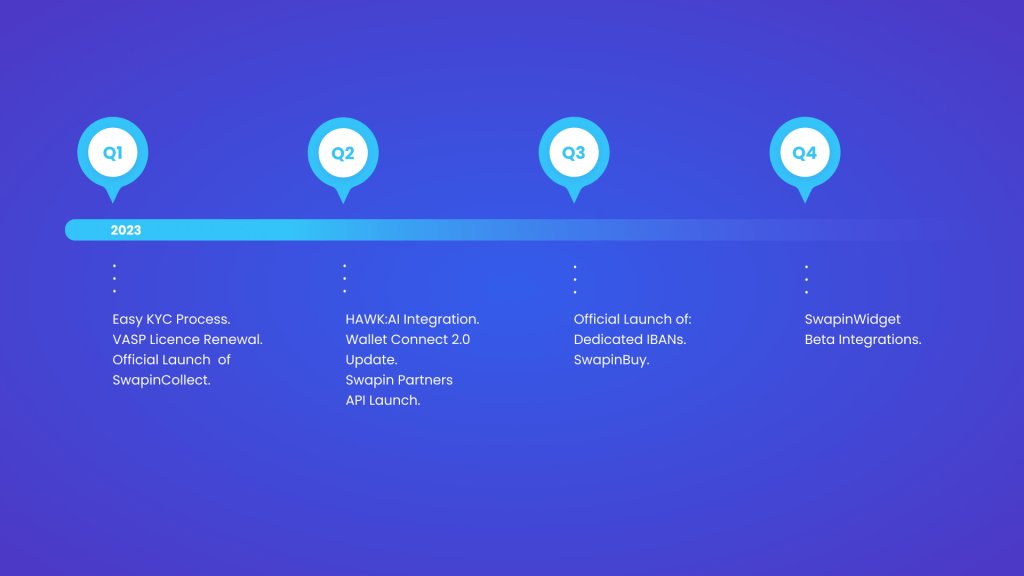 2024: What's Ahead?
Expanding SwapinWidget Partnerships: Next year, our goal is to partner with over 50 platforms for SwapinWidget. You can find our SwapinWidget integration documentation here.
Open Banking integration: We will implement Yapily integration for easy on-ramps with open banking.
SWIFT/USD Transactions Support: We plan on introducing SWIFT, expanding beyond SEPA to offer you more international payment options and diversity our fiat currency options by incorporating USD for your crypto on-ramping and off-ramping needs.
Card Payments Integration: In our continued effort to bridge traditional finance and crypto, soon you will be able to use card payments for your crypto purchases.
Increasing Swapin Support: We are extending Swapin's support team to provide both App and SwapinWidget customers better customer experience.
API Development and Expansion: Our next milestone is to offer not only SwapinWidget, but also custom white-label on- and off-ramp solutions to our partners. You can find our Partners API documentation here.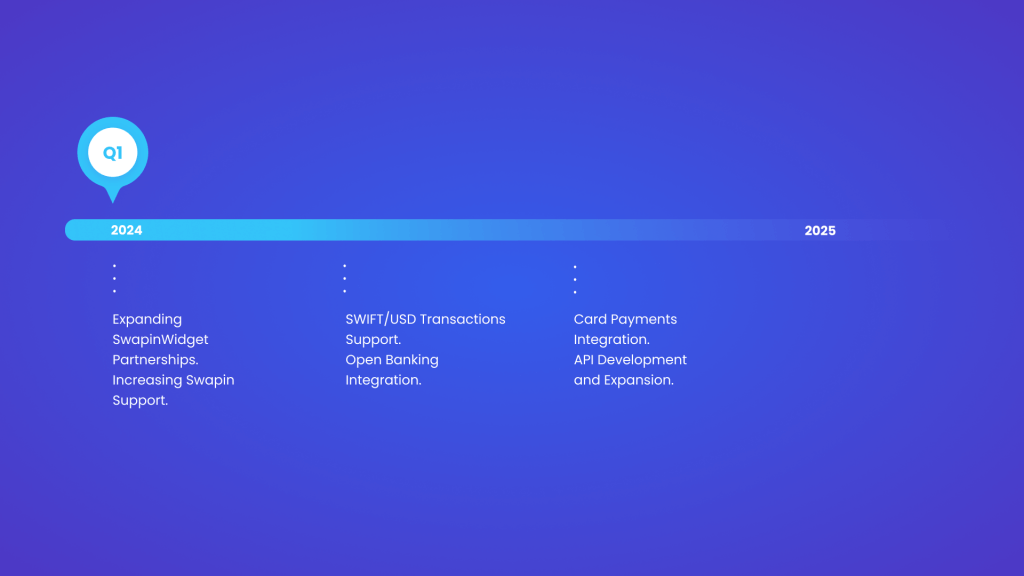 Your Voice Matters
We'd love to hear from you. While we've shared our vision and upcoming plans, the stage is now yours. What's a feature you'd be most excited to see from Swapin? Your feedback shapes our journey, so make sure to voice it.
Share Your Most Anticipated Feature Here
Our aspiration is to become the foremost European influencer in shaping the future of Web3 payments, where cryptocurrency transactions are as simple and widespread as traditional currency payments. With continuous innovation, we are striving to provide seamless solutions for transactions between crypto and banks that allow smooth crypto buying and selling for our customers.
---
The cryptocurrency market is dynamic and subject to rapid changes. Stay informed by subscribing to our weekly industry updates newsletter on LinkedIn here, and joining our community on Telegram here.