Swapin Solution Explained: How Does It Work?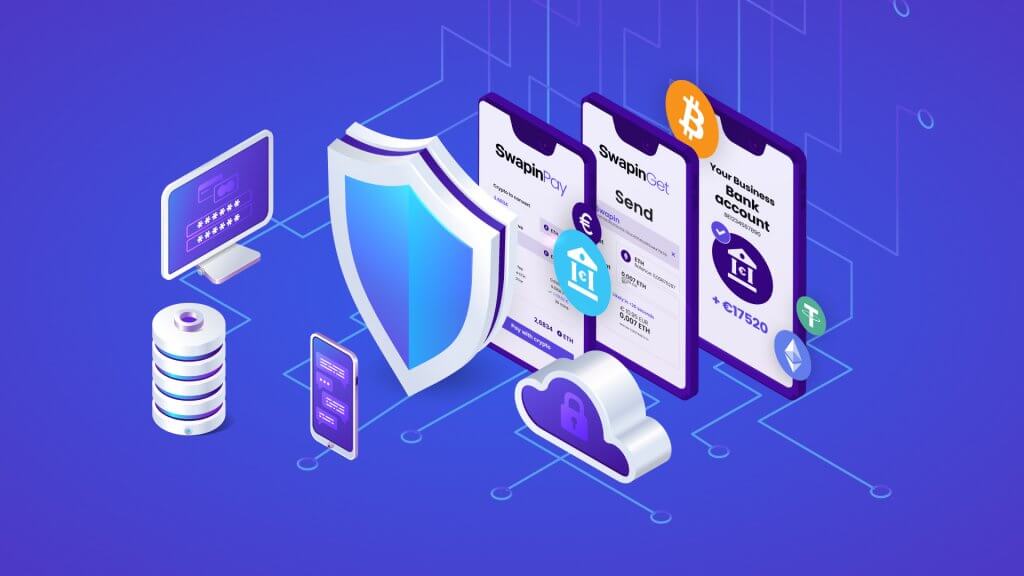 At Swapin, we are on a mission to provide you with easy, fast, and secure crypto-to-fiat payment experiences. We want to make your journey in the world of digital currencies smooth and hassle-free, so let's take a closer look at how Swapin solution works and the key components behind-the-scenes that make our automated processes happen.
Swapin Customer Journey
Swapin offers you fast and secure crypto-to-bank transactions, but let's see what happens in between sending crypto from your wallet and receiving EUR or GBP on your or any other bank account. When you start your journey with Swapin, you first go through our quick and efficient verification process. Once that's completed, you can then send crypto from your wallet to Swapin's wallet address. We handle the exchange for you, converting your crypto into fiat currency. The converted funds are then securely transferred to our trusted payment provider, who facilitates the transfer immediately to your bank account.
Throughout this process, Swapin ensures security and speed. We employ transaction monitoring to ensure the safety of your funds and adhere to regulatory requirements. With our fast and efficient automated system, you can trust that your crypto-to-fiat transactions are executed smoothly and quickly.
Now, let's take a deeper look at how it all works step by step.
Swapin Verification Process
At Swapin, we take your security seriously. That's why we've partnered with industry-leading verification providers like Veriff and Onfido to ensure the highest levels of security and compliance when performing KYC (Know Your Customer) and KYB (Know Your Business) verifications. Veriff's solution allows you to complete your Starter Level KYC in just 2 minutes, so you can make your first transaction almost immediately after signing up. We also leverage the data analytics capabilities of LexisNexis and Bureau van Dijk for thorough KYB verification, further ensuring the authenticity and integrity of company data.
Wallet Connect
We understand the importance of privacy and control over your crypto assets. That's why Swapin solution seamlessly integrates with leading Web3 wallets, including Metamask, Ledger, Trust Wallet, Argent, Crypto.com, Exodus, and Rainbow. By establishing a secure encrypted connection between the Swapin App and your Web3 wallet, we ensure the privacy and security of your transactions. With Wallet Connect, you can confirm transactions directly from your wallet with just a single click. No need to scan QR codes or copy-paste wallet addresses. And rest assured, as a non-custodial solution, Swapin never has access to your private keys, ensuring your funds remain under your complete control and preventing any unauthorized transfers.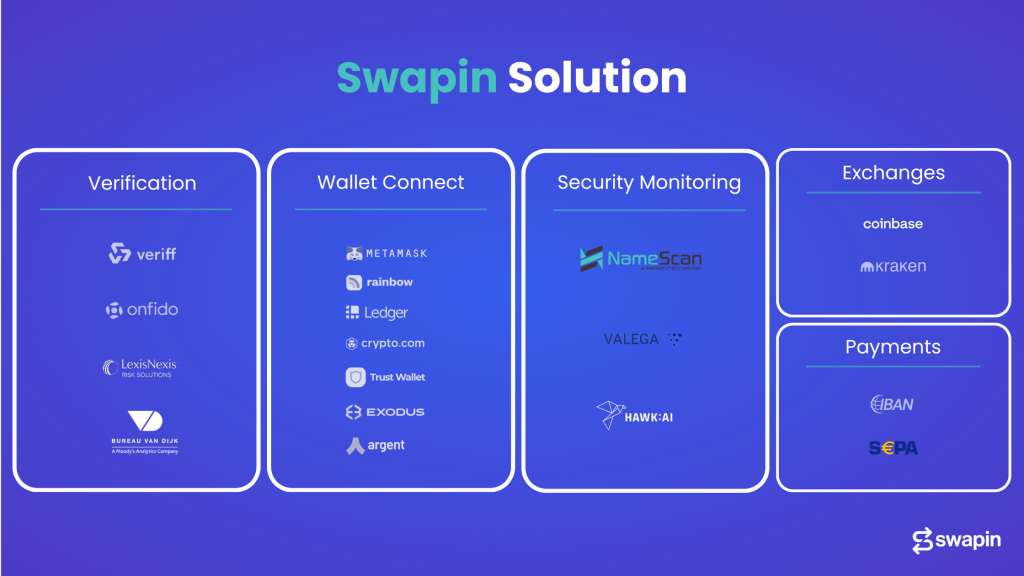 Security Monitoring and Crypto Compliance
Regulatory compliance is a top priority for us. To maintain adherence to international standards and mitigate potential risks, we rely on risk management tools, such as Namescan. This powerful solution enables us to monitor transactions and ensure they meet compliance standards.
To uphold compliance and security standards, we also collaborate with Valega, a trusted crypto compliance solution. Through in-depth wallet ratings' checks, we verify the authenticity and trustworthiness of wallets used in transactions, providing you with an added layer of assurance.
To further enhance our security measure, we employ the cutting-edge AML and fraud surveillance solution Hawk:AI. With daily screenings and continuous assessment of transactions, we can proactively identify potential risks or compliance issues, ensuring a secure and compliant environment for you.
Crypto Exchanges and Banking Providers
To facilitate seamless crypto-to-fiat payments, Swapin maintains business accounts with reputable exchanges such as Coinbase and Kraken. These partnerships allow us to efficiently exchange the cryptocurrencies you send us into fiat currencies, ensuring flexibility in our payment ecosystem.
Swapin collaborates with trusted payment providers and services to ensure smooth and efficient crypto-to-fiat payments. We perform IBAN validation to guarantee the integrity of each transaction and we support cryptocurrency to EUR or GBP payments into SEPA bank accounts. If the recipient's bank supports instant SEPA, then the transactions will be done within minutes. You can check any IBAN for Instant SEPA support (SCT-inst) here.
Fast and Easy Crypto-to-Fiat Payments with Swapin
At Swapin, our technical infrastructure is built on a foundation of trust, security, and reliability. We're committed to delivering an unparalleled user experience that empowers businesses and individuals to embrace the potential of crypto-to-fiat payment solutions. Stay tuned for more technical insights and product updates on the Swapin blog as we continue to revolutionize the way we transact in our daily lives.
To stay updated on Swapin's progress and developments, join our Telegram community and subscribe to our newsletter to be among the first to receive news and updates. You can also follow our official channels on Twitter, Reddit, Facebook, LinkedIn, and Instagram.