Swapin Joins MasterCard Lighthouse FINITIV 2023 Spring Program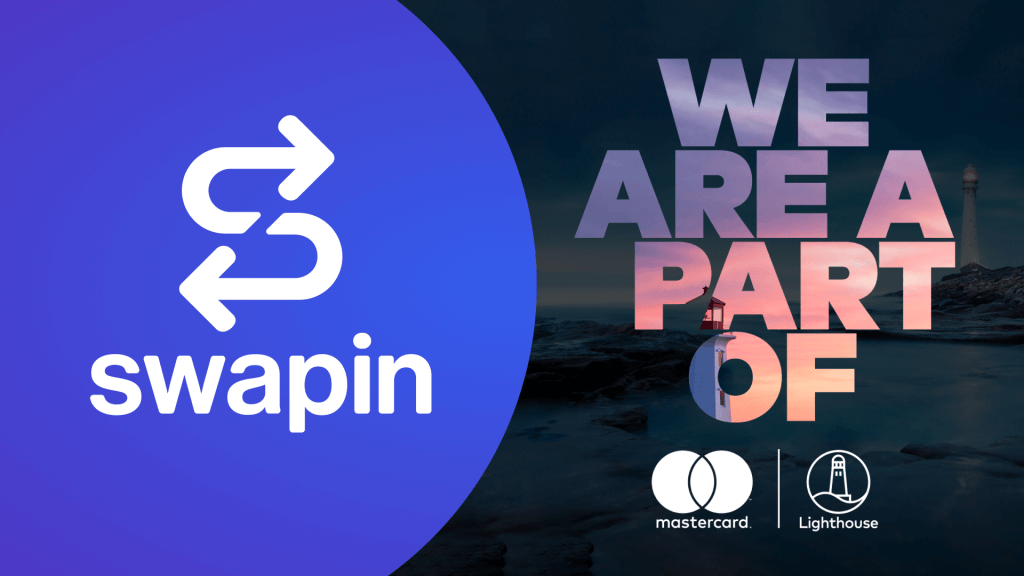 This year, Swapin has been chosen as a finalist in the MasterCard Lighthouse FINITIV 2023 Spring Program. This is big news for a startup bridging Web3 and Web2 worlds and connecting crypto to bank accounts. We are thrilled to share more details about Swapin participating in the program and what it can bring to our customers in the future.
What is MasterCard Lighthouse FINITIV?
It is a program founded by MasterCard that aims to bring startups, banks, investors, and advisors together to scale innovative ideas. As a fintech startup, Swapin applied to be part of the program and pitched our crypto-to-fiat solution to MasterCard and leading banks. As a result, MasterCard handpicked Swapin and 14 other outstanding fintech startups from Nordics and Baltics to participate in the Spring 2023 program. This means a big step ahead for crypto adoption by the traditional finance system. Also, the Swapin team is excited to use this opportunity to make new connections and receive advice that will drive us towards a future of crypto-to-bank payments.
Key Swapin Takeaways from the Program Kickoff Event
At the recent kickoff meeting Swapin team met other game-changing fintech startups, including Solid World, Mifundo, Cino, and AMLYZE. Additionally, we had the pleasure of giving personal intros/pitches to some of the most influential industry players, including MasterCard, SwedBank, SEB, AWS, and Fintech Mundi.
One of the most exciting discussions we had was with MasterCard. We talked about the future of connecting Web3 finances to the Web2 ecosystem and shared some ideas about a seamless flow for using cards for off-ramping. As pioneers of crypto-to-fiat payments, Swapin's team will be honored to provide our vision for this potential product.
We also appreciate AWS's readiness to support Swapin and other fintech startups by providing free access to AWS Infrastructure for a certain period. AWS is also ready to provide technical expertise to support startups like us. We find the idea of adding Swapin API products in the Amazon marketplace an exciting prospect for our team.
The discussion with Swedbank and SEB revolved around the challenges of dealing with crypto for banks. While there are still many regulations and compliance topics to cover, we believe the future of crypto-to-fiat transactions is bright. The upcoming regulation on markets in crypto-assets (MiCA) is a big deal breaker for banks to become more crypto-friendly. As a company, we hold an Estonian VASP license that is already compliant with the future MICA standard, which will make the transition even more seamless.
We were also excited to meet with Fintech Mundi, the global accelerator that helps fintech companies develop ideas, commercialize products, and grow their businesses. We thank Susanne Hannestad for helping startups like us with introductions and a development plan after the program. We are honored to meet you!
What's Next?
We are looking to join the next workshops dedicated to potential partnerships, investor relations, product, and marketing advice. Overall, we believe that this program provides us with a valuable opportunity to network, collaborate, and grow in the financial technology industry. We are excited to see where this program will take us and how we will continue to innovate in the crypto-to-fiat industry. Stay tuned, we will cover more on the blog soon.