June 2023 investor report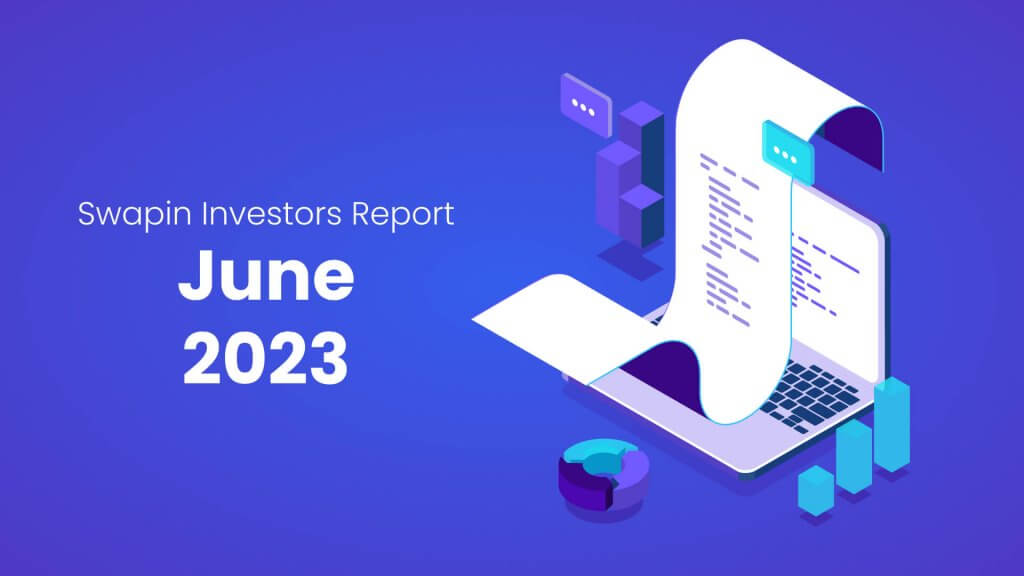 In June, Swapin team focused on preparing for a big launch: the Dedicated IBANs feature, planned for July. Additionally, our activities included experimenting with new marketing channels, working on API development, analyzing past activities, and developing a sales and marketing growth plan for Q3.
Key Numbers
Here are the key growth numbers for June:
Monthly active first-time users increased by 7%.
Monthly active returning users grew by 8%.
Swapin.com welcomed a 9% increase in new visitors.
However, the overall transaction volume and number of transactions decreased in June compared to May. This was due to the market situation, with customers waiting for better exchange rates to spend their crypto.
Product Development
In June, Swapin Product team focused on the following:
Swapin API and Swapin Off-Ramp Widget development, including the creation of documentation.
Supporting Wallet Connect 2.0 and facilitating a seamless transition from the previous version.
Testing Dedicated IBANs for individuals and preparing for the big launch in July.
Marketing
During June, the Marketing team accomplished the following developments:
Onboarded a new Digital Marketer, Mia Belle Trisna. She is responsible for social media, communities, and content marketing.
Continue ongoing campaigns on Meta and Reddit.
Tested new promo channels, including influencers and Brave Ads.
Our content creation efforts expanded with blog posts and email marketing.
Launched a new design for swapin.com.
Business Development & Sales
In June, our focus in Business Development & Sales included the following:
Piloted a new B2B onboarding flow to better qualify leads and improve onboarding time.
Announced a partnership with JHELY.
Created a sales strategy for SwapinCollect.
Conducted lead generation efforts for SwapinCollect.
Released SwapinCollect one-pager 2.0.
Conducted a customer research project for individual users.
Managed existing B2B customers and provided support to their accounts.
Worked closely with pilot customers for SwapinWidget and SwapinAPI to define the best framework.
In conclusion, June was a month of notable progress and preparations across various areas of Swapin's operations. The upcoming launch of the Dedicated IBANs feature in July holds great potential for further growth and success in the coming months.