July 2023 investor report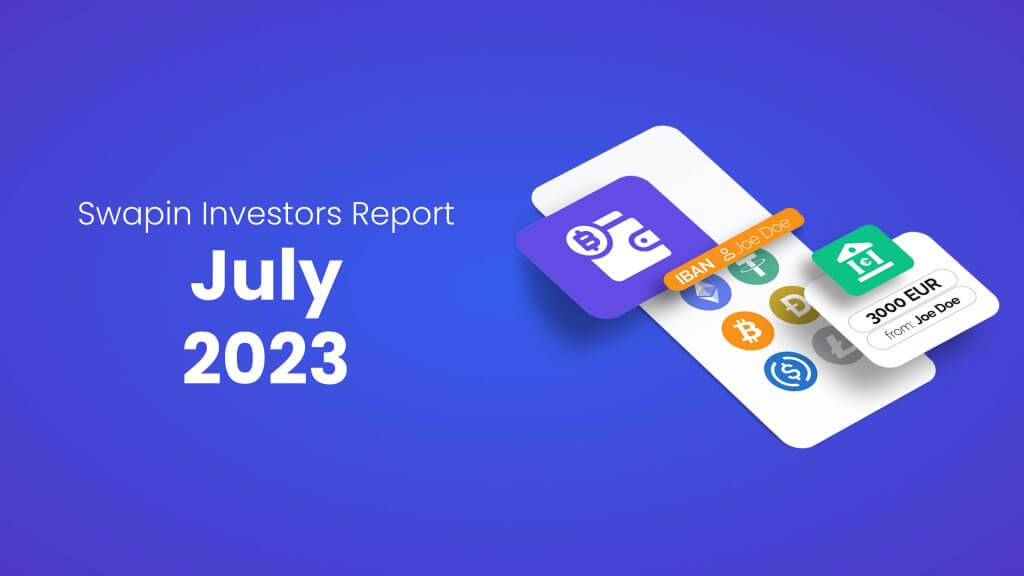 In July we pushed a game-changing update to Swapin's solutions that will simplify your crypto-to-fiat payments experience. In partnership with Fiat Republic, we are now issuing Dedicated IBANs to individuals who are EEA residents and have Basic or Full verification level, allowing for seamless cryptocurrency withdrawals and payments directly to any bank account. Other main activities in July included experimenting with influencers and onboarding and developing business customers.
Key Numbers
In July, we witnessed growth in the following key metrics:
Transaction volume surged by 33%.
Transaction count increased by 9%.
Swapin.com experienced a notable 13% rise in visitors.
Overall, the off-ramp market situation continues to experience fluctuations. Therefore, we remain dedicated to not only optimizing off-ramp solutions but also focusing on building a robust on-ramp solution to navigate the evolving landscape.
Product Development
In July, Swapin Product team focused on the following:
Dedicated IBANs for Individuals. The feature is tested and pushed live for individuals from EEA countries only.
SwapinWidget Demo Release. We introduced a demo version of the SwapinWidget, allowing potential partners to preview and experience its functionalities before full implementation.
SwapinWidget API Documentation. Our team completed creating the first version of API documentation for the SwapinWidget. 
SwapinBuy Development. We continued to develop the SwapinBuy feature, which enables users to purchase cryptocurrencies.
Marketing
In July, Swapin Marketing team achieved the following milestones:
Executed a promotional campaign with 10 prominent YouTube and Twitter crypto influencers.
Orchestrated the launch of Dedicated IBANs, accompanied by comprehensive updates to Swapin's Web and App interfaces, informative help articles, engaging social media content, and targeted paid advertising campaigns.
Explored the potential of Brave Ads as a new marketing channel through rigorous testing.
Maintained ongoing marketing campaigns on Reddit and Facebook, ensuring sustained engagement and brand visibility.
Business Development & Sales
During July, our Business Development & Sales efforts encompassed the following activities:
Preparing for SwapinWidget integration and collaborating closely with partners to ensure seamless implementation.
Executing outbound sales campaigns to reach potential clients and expand our market presence.
Collaborating on a new case study featuring a business customer, highlighting the value and benefits of our services.
Successfully onboarding new business customers and guiding them toward becoming active participants in our payment ecosystem.
In summary, July saw a big step with Dedicated IBANs for individuals. Looking ahead to August, we're excited to bring this feature to businesses and expand support to new countries. This ongoing progress reflects our commitment to improving crypto-to-bank payments, making them smoother and friendlier for crypto users.