August 2023 investor report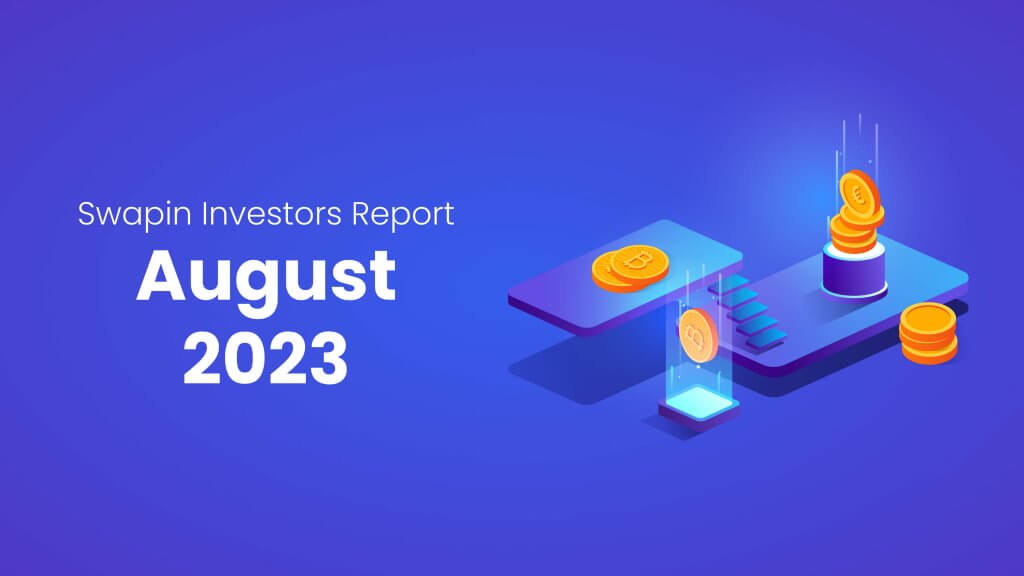 In August, Swapin team continued to redefine the standards of crypto-to-fiat transactions by offering payments in customers' names for businesses. The Swapin Dedicated IBANs feature is now available for both our individual and business customers in the European Economic Area (EEA), as well as the United Kingdom and Switzerland. This update streamlines crypto-to-bank transactions, offering customers crypto-friendly payments raising less red flags from banks. Another significant initiative for Swapin team is preparing for the launch of the SwapinBuy feature, which will enable both individuals and businesses to purchase crypto from their SEPA bank accounts within minutes.
Key Numbers
The following key numbers showed growth in August compared to July:
Overall transaction volume increased by 15%.
Monthly active customers conducting transactions grew by 33%.
KYC-verified customer numbers grew by 8%.
However, we observed a decrease in the average transaction volume compared to July. This suggests that many customers are testing the product, particularly the Dedicated IBANs feature, but are not yet engaging in large-volume transactions. We anticipate that the upcoming launch of the SwapinBuy on-ramp solution will address this trend.
Product Development
The primary focus of our development efforts in August included:
Continuing development of SwapinBuy, with both backend and frontend tasks nearing completion.
Addressing legal and compliance requirements for SwapinBuy, including updating Terms & Conditions, fees, verification levels, and other processes.
Progressing on the Swapin Partners API, including documentation and API development based on partner feedback.
Marketing
In August, Swapin marketing team concentrated on:
Extensive copywriting for the Swapin blog and complementing new content pieces with email campaigns.
Launching reactivation campaigns for current Swapin customers, along with a new bonus logic for these campaigns.
Preparing for the Web3 Chamber event to be hosted at the Swapin office in September.
Creating all marketing materials for the upcoming SwapinBuy launch.
Business Development & Sales
Our Business Development & Sales activities included the following:
Ongoing preparations for SwapinWidget integration and collaboration with current and potential partners to ensure readiness for implementation.
Offering a white list for the SwapinBuy feature to our existing business customers who have been eagerly awaiting this opportunity.
Cooperating with potential partners interested in utilizing the Swapin API for both off-ramp and on-ramp solutions for their projects.
Welcoming a new Head of Business Development and Sales to the team.
Throughout the summer months, Swapin team has been diligently preparing for significant product and partnership updates. We anticipate significant changes to come with the SwapinBuy launch in September. Furthermore, we are proud to host the Web3 Chamber event at the Swapin office, where we will engage in discussions about the future of Web3 payments with key Estonian Web3 companies.