Is Crypto Dead? A Look at the State of Cryptocurrency Market Today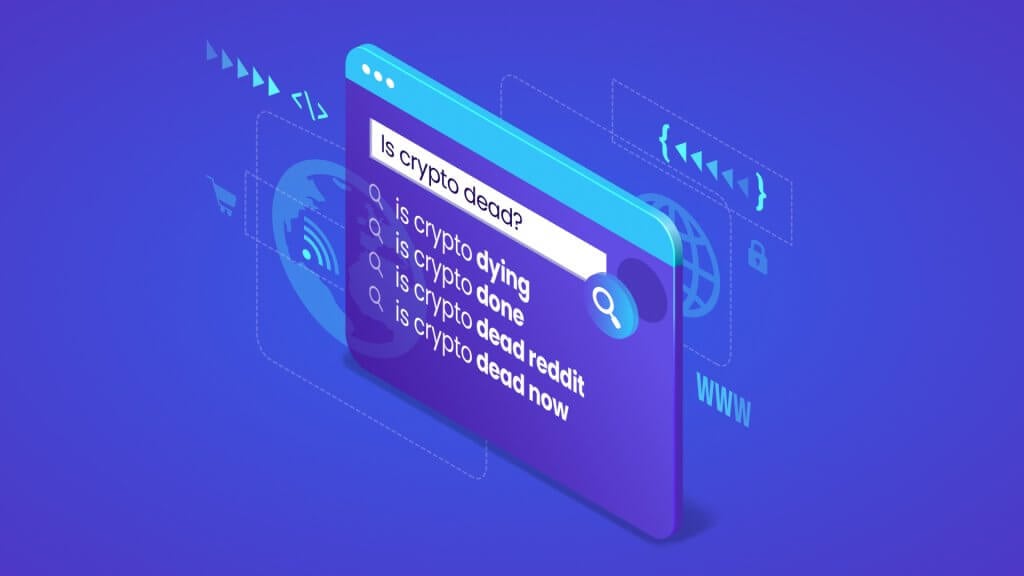 If you've been part of the crypto industry, you have probably felt the wild rollercoaster of bull market and bear market cycles. 2023 has proven to be no different – the market has been volatile, while Bitcoin is down 40% from its all-time high in 2021 (Statista). With current market conditions, statements like "crypto is dead" have resurfaced. So let's look at the state of the cryptocurrency market today with some statistical data to answer the question: is crypto really dead or is it just FUD (fear, uncertainty, and doubt)?
Crypto Market Today
To understand the current state of crypto, we must look at the snapshot of the market currently in August 2023. 
As we all know, the crypto market has been in a bit of a slump since the run surrounding Bitcoin ETFs and Ripple's partial victory in lawsuit against SEC was over. Bitcoin has lost some of the gains made in response to the EFT news. Moreover, venture capital funding to Web3 has decreased by 76% in Q2 of 2023 compared to last year (Crunchbase).
NFTs (Non-fungible tokens) have also taken a hit, with market levels reverting to the levels seen before the 2021 boom. Many popular NFT collections are seeing the prices drop, like the BAYC (Bored Ape Yacht Club) NFT collection by Yuga Labs falling to 27.4 ETH, its lowest point since September 2021 (CoinDesk).
In July, trading volumes on decentralized exchanges (DEXs) experienced a 16.5% decrease, as reported by Cointelegraph Research. So as we find ourselves in this crypto winter, where things may seem a bit depressing, it's important to shift our perspective. By zooming out and examining the bigger picture of the crypto industry, we can get the real answer to whether crypto is dead.
Rising Crypto Adoption
While the crypto market is currently undergoing a challenging phase, it's important to zoom out and recognize that this ecosystem is far from dying. Here are some important insights to consider regarding the current state of the crypto industry:
As the statistics are showing, crypto adoption continues to rise and the blockchain industry is evolving. It's also worth noting that Bitcoin has already been declared "dead" 474 times, as documented on 99Bitcoins here. That's the nature of innovation and new technologies that are still being developed and improved upon.
Challenges to Crypto Industry
Undoubtedly, the crypto industry faces its fair share of challenges – from regulatory uncertainties, security concerns, to market volatility. However, the overall trend is positive and the future for crypto looks bright. 
Regulatory Uncertainties
The governments all over the world are still working on how to regulate crypto efficiently. The European Union and United Kingdom are introducing the MiCa framework as well as the regulatory clarity around cryptocurrencies in the U.S has also recently been in focus, due to the ongoing SEC vs Ripple court case since 2020 and SEC actions towards Binance and Coinbase in June 2023 (Nerdwallet).
Security Concerns
Hacks and scams are common in the crypto industry, with hackers stealing over $300 million in Q2 of 2023, based on blockchain security company Certik's latest report. However, as the technology develops and more companies are investing in cybersecurity, the industry is adapting to mitigate these risks and fostering a safer environment. Compared to the same period of 2022, where the losses were $745 million (FM), we can see that crypto hacks and scams are on the decline. As with any money involved, there are hacks and scams in the traditional banking industry with fiat currency as well. 
Market Volatility
Compared to traditional asset classes like stocks, crypto markets are more volatile in their nature. Cryptocurrencies are a relatively new asset class, limited market size compared to stocks, and more speculation based price movements. Decentralized nature, while increasing volatility of cryptocurrencies, is also the essence of the crypto space.
What Lies Ahead for Crypto?
The future seems promising for the crypto industry with significant events, such as Bitcoin halving in April 2024, the increasing attention of institutional investors, and adoption by major companies.
Growing Institutional Interest
Institutional investors are increasingly attracted to cryptocurrencies. Earlier this year, BlackRock, Fidelity, Ark Invest, and other big investment firms filed applications to launch Spot Bitcoin ETFs (exchange-traded funds). Additionally, the first Bitcoin ETF launched in Europe managed by London-based Jacobi Asset Management, trading under the ticker BCOIN and charging investors a 1.5% annual management fee. 
Decentralization and Financial Inclusion
Cryptocurrencies are promoting financial inclusion by providing individuals, especially the unbanked and underbanked, with greater financial autonomy. By reducing dependence on traditional financial institutions and offering access to other financial services, cryptocurrencies are empowering people globally.
Innovation and Technological Advancements
Blockchain technology, the backbone of cryptocurrencies, is driving innovation across various sectors. Concepts like decentralized finance (DeFi), non-fungible tokens (NFTs), and smart contracts are reshaping traditional concepts of money, art, and digital assets. 
Is Crypto Dead? No, It's Evolving
While the crypto market may seem slow at the moment, it's far from being dead. While we may find ourselves in a crypto winter, characterized by price retracements, decreased trading volumes, and a sense of unease, it's crucial to understand that this is a cyclical aspect of the crypto space. 
The crypto ecosystem is still in its early stages, and as such, it undergoes phases of intense excitement and consolidation, further contributing to its growth and development. And therefore, we can confidently assert that crypto is not dead; it's merely in the process of evolving.
---
In the evolving world of crypto, staying informed and connected is essential. For the latest industry insights, you can subscribe to our Linkedin Weekly Crypto/Web3 Newsletter To be part of a community of crypto enthusiasts, join our Telegram community and to explore more about Swapin, you can follow us on our social media platforms here.