What is Crypto Gaming? Guide to GameFi and Play-to-Earn Tokens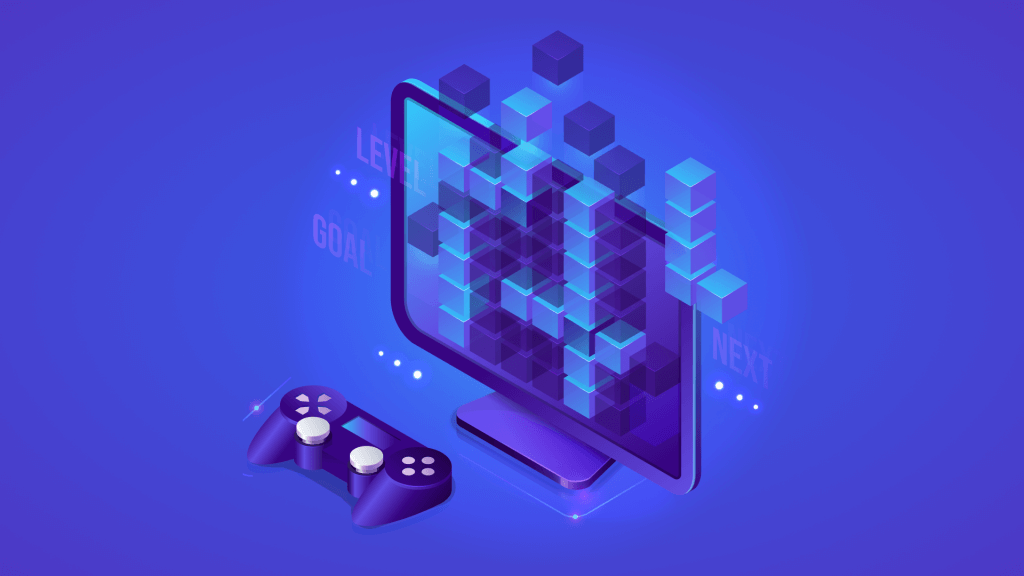 Gaming has come a long way since the early days of Pong and Pac-Man. With the emergence of blockchain technology, the gaming industry has taken a giant leap forward, and it's not just about entertainment anymore. Now we have crypto gaming and GameFi – a space where play-to-earn tokens, NFTs (Non-Fungible Tokens), and blockchain technology converge to create a gaming ecosystem that's not only fun, but also potentially profitable. Let's dive into the world of GameFi and its potential.
The Rise of GameFI Industry
We are currently witnessing the evolution of gaming, where innovative technologies and decentralization merge. The number of total games in the GameFi industry has experienced remarkable growth, with over 600 active games today.

There are almost 1 million daily active users in GameFi and one of the remarkable aspects of Play-to-Earn gaming is fostering vibrant and strong communities. Players from around the world build connections, collaborate on quests, and support one another.
On October 10th, there were over 16M daily transactions with $15M in volume, according to Footprint Analytics.

According to the Zion Market Research report, blockchain gaming is projected to reach a market size of $435 billion by 2028, underscoring the immense potential of this industry.
Leading Chains for GameFi
When it comes to blockchain gaming, several chains have emerged as the go-to in the field. Some of the most popular ones include:
Ethereum: Ethereum is the hub for NFTs and DeFi (Decentralized Finance) projects.
Polygon: Polygon is known for its scalability solutions and hosts various NFT projects and games.
Solana: Solana's speed and low transaction costs make it an attractive choice for blockchain games.
Avalanche: Avalanche features high throughput and fast confirmation times, making it a good fit for gaming.
BNB Chain: Binance Smart Chain offers compatibility with the Binance ecosystem, making it a convenient choice for some users.
WAX: High-performance blockchain platform designed for digital asset trading and gaming.
The Rise of Mythos Chain
One blockchain that has recently seen a surge in NFT trading volume is Mythos Chain. It has surpassed Polygon and Solana to become the second-largest blockchain in terms of NFT sales volume over the past 30 days. Most of this trading volume is from DMarket, an NFT marketplace hosting NFTs from games affiliated with Mythical Games, the company behind Mythos Chain.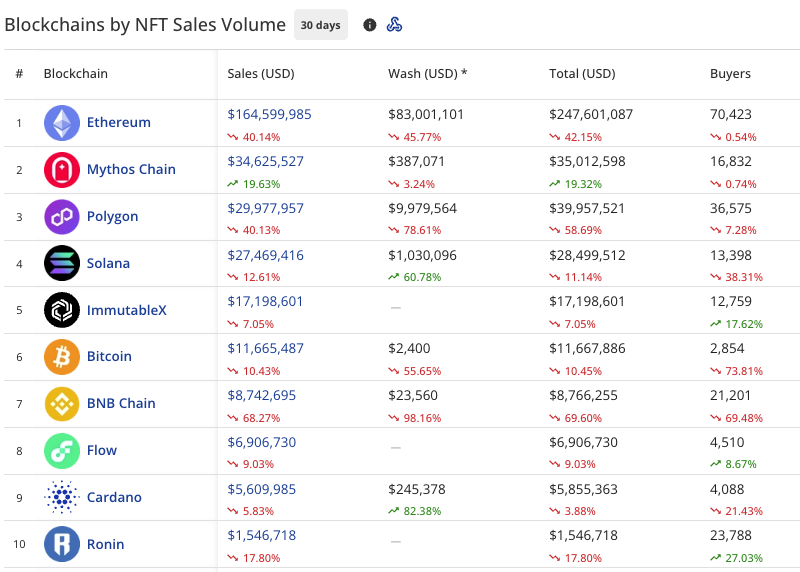 One game that may have contributed to the spike in NFT sales on Mythos Chain is Nitro Nation World Tour. This Web3 mobile street racing game, officially launched in October, is backed by the popular DJ Deadmau5.
Popular Crypto Games
The world of crypto gaming is filled with a wide variety of games. While there are countless options, here are some of the most popular ones:
These games provide a range of experiences, from battling creatures to owning virtual land, breeding animals and trading cards. There's a crypto game for everyone, and more continue to emerge and gain popularity.
What are Play-to-Earn (P2E) tokens?
Play-to-earn tokens are a fundamental part of the GameFi landscape. They're cryptocurrencies you can earn by playing crypto games. Instead of the traditional model where you pay to play, in the play-to-earn model, you're rewarded for your time, effort, and skill. Here are top 10 Play-to-Earn tokens by market capitalization according to Coinmarketcap: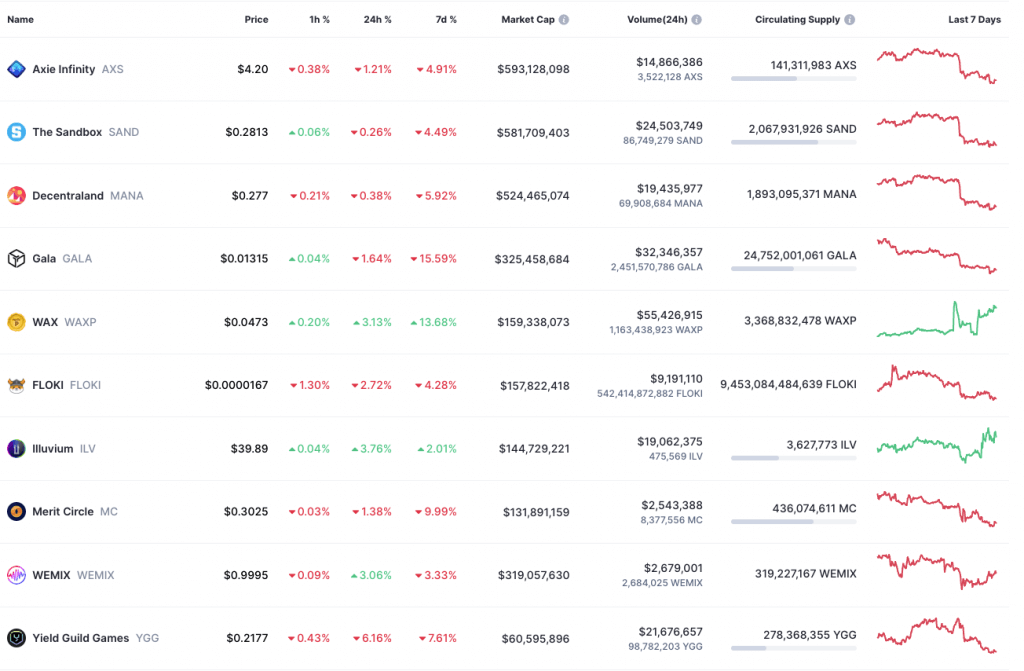 These play-to-earn tokens represent a revolutionary shift in gaming. They give players a tangible stake in the games they enjoy, combining play and investment.
Enjoying Crypto Gaming Rewards
As a crypto gamer, you might be wondering how to convert your in-game tokens to cash with ease. There are a variety of options available, from centralized exchanges to non-custodial off-ramping providers, such as Swapin.

SwapinGet is an easy off-ramping solution that lets you easily convert your cryptocurrency to fiat currency (EUR or GBP) and have it deposited directly into your bank account. Currently we support 10+ leading coins, including Bitcoin, Ethereum, LTC, USDT, USDC, and more.
The process is simple:
Choose the cryptocurrency you want to convert and the fiat currency you want to receive.
Provide your bank account details.
Swapin will create a SwapinGet wallet address for you. Transfer your crypto there.
Receive EUR or GBP directly in your bank account.
With SwapinGet, you can enjoy a secure and efficient way to convert your tokens and enjoy the profits of your crypto gaming adventures in the real world.
Conclusion
The world of crypto gaming and GameFi is evolving rapidly. It offers exciting opportunities for gamers and investors alike, and it's just the beginning. As new games, tokens, and chains emerge, the possibilities are endless. Whether you're battling in Axie Infinity, building in The Sandbox, or trading in Decentraland, there's a place for you in this new era of gaming. And when it's time to convert your hard-earned tokens, SwapinGet is here to make the process as smooth as possible. Dive into the world of crypto gaming, discover your favorite GameFi tokens, and start your play-to-earn journey today.
---
Stay informed by subscribing to our weekly industry updates newsletter on LinkedIn here, and joining our community on Telegram here. You can follow us on social media channels here.