Jan 2023 investor report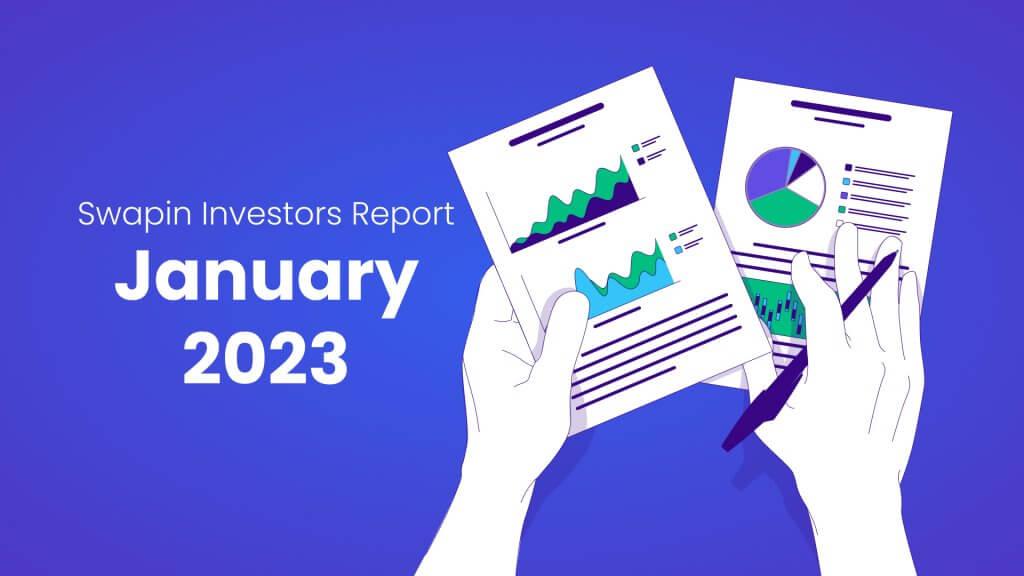 Swapin is a fintech startup that bridges the gap between crypto and fiat through ultra-fast transactions. Our mission is to continuously build a robust infrastructure that transforms how businesses and individuals can spend their virtual currencies. This month, the Swapin team was focused on preparing a simplified KYC flow, establishing a new marketing track, and building a sales funnel.
Key Numbers
In January 2023, Swapin experienced growth in the following areas compared to the previous month, December 2022:
8% increase in monthly active customers that made transactions.
54% increase in customers who completed their KYC verification.
10% increase in business customers who completed their KYB verification.
22% growth in Swapin.com visitors
Product Development
In January, we focused on preparing for the updated KYC launch, which will make a significant difference in the client onboarding process. With the updated KYC, customer accounts from the EEA countries can be verified automatically, and it takes only a few minutes to get the account ready to start making transactions. The renewed KYC also comes with a new design, updated email flow, and an overall improved user experience. In addition to the KYC update, our product and development team made several other updates to the product, including:
GBP payment form update: added account number and sort code fields to the form, allowing us to process both Faster Payments and CHAPS payments.
Product name-changing update in the web app.
Smaller updates and bug fixes: file upload system improvement, IBAN validation, UBO validation in business onboarding, and much more.
Marketing
Swapin welcomed its new Chief Marketing Officer (CMO), Alexandra Lartey. With over 20 years of experience working for companies such as Opera Software and Vodafone Ukraine, Alexandra joined Swapin as a product marketing manager and has since been promoted to CMO. After onboarding the new CMO, we began setting up a new marketing track. We chose two key partners, Compresso and Lunar Web3 marketing agencies, to support Swapin's marketing activities.
This month, we launched the following marketing initiatives:
Product renaming: we pushed umbrella messaging for all Swapin products, including SwapinGet, SwapinPay, and SwapinCollect.
Swapin Ads campaign is live on Facebook.
Swapin social media posting has been relaunched.
Sales materials: we updated the affiliate program pitch and started working on sales materials for other Swapin products.
Swapin landing pages: we improved the copy and relaunched the Fees and Conditions page.
Business Development & Sales
In January, the Business Development team worked closely with the newly appointed CMO to set up the cooperation between the teams and the selected agencies. Throughout the month, business development worked on the following initiatives:
EAS funding project discussions and preparation with the CEO and finance team.
Calls/meetings with Swapin B2B key accounts to learn more about their customer-specific requirements and the current level of satisfaction with Swapin core products.
Evaluated and onboarded sales tools for Swapin B2B sales.
Established automated email flows for B2B inbound leads (recently signed up leads).
Meetings and discussions with the marketing agencies to support Swapin B2B sales.
Calls with potential leads, affiliate partners, and vendors.
7 clients relaunched on SwapinCollect product.
Conducting research and preparing for an iGaming vertical campaign.
Swapin continues to work on growing our customer base and improving their experience with our product. In February 2023, we plan to launch a new KYC flow and renew our VASP license. These steps will ensure that Swapin customers have access to simple, regulated, and secure tools for their crypto-to-fiat journey.