Feb 2023 investor report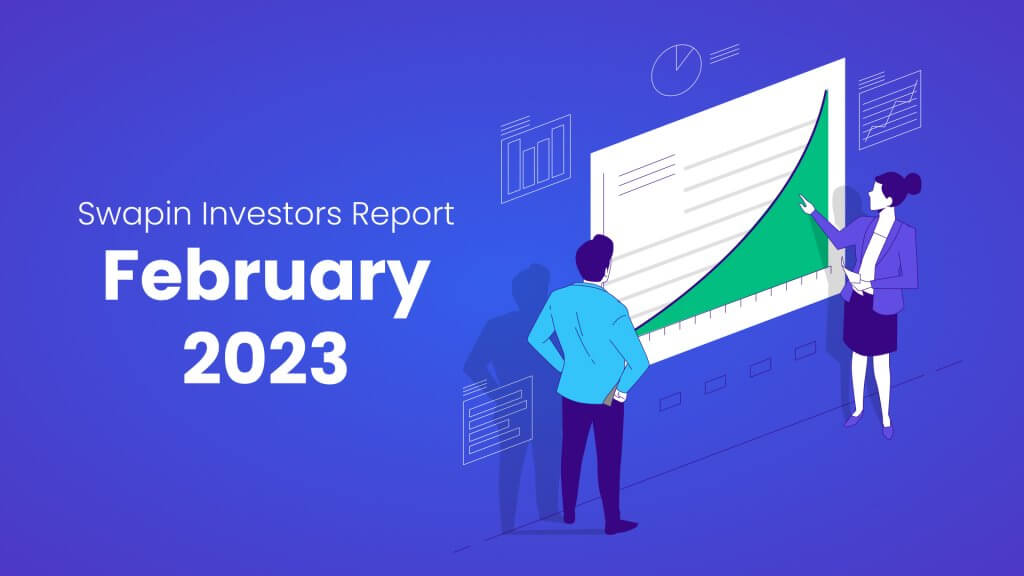 This month, the Swapin team focused on launching the new KYC flow. With the improved flow, customers can now complete their Starter verification level and start making their first transaction in just 2 minutes after signing in. This is a significant step in building a better onboarding experience and bridging the gap between registration and taking initial actions on the platform.
Additionally, a very significant milestone for Swapin was the renewal of our VASP license. According to the Estonian regulator, Swapin (Ungaro OÜ) was among only three other service providers that obtained this type of license in February 2023. There are currently only 112 active licenses for providing virtual asset services in Estonia, and we are proud to be among other fintech companies that meet all the requirements.
Key Numbers
In February 2023, Swapin experienced growth in the following areas compared to the previous month, January 2023:
10% increase in monthly active customers conducting transactions.
22% increase in customers who completed their KYC verification.
21% growth in visitors to swapin.com.
We also observed a decrease in business customers who completed their KYB verification. This was due to the overall complicated situation in the crypto market, as companies holding crypto tend to avoid off-ramping it with the current exchange rates. However, our existing Swapin business customers continue to make crypto-to-fiat transactions for their monthly expenses, such as salary payments.
Product Development
In February, we focused on launching the updated KYC flow for individual customers. With the updated KYC, customer accounts from the EEA countries can now be verified automatically, and it takes only a couple of minutes to get the account ready for making transactions.
The product team also introduced three new verification levels for individual customers: Starter, Basic, and Full. Additionally, the SwapinPay form was updated to differentiate payments to oneself and other bank accounts.
Marketing
This month, the Swapin marketing team supported the launch of the updated KYC process for individual customers with a Facebook Ads campaign and an email marketing campaign. The new verification levels landing page was also pushed live.
On the business customer side, we launched several campaigns to support the Swapin Sales Team, including:
LinkedIn Lead Magnet campaign.
Launch of swapinguides.com for lead generation.
Creation of one-pagers for the main Swapin products.
Business Development & Sales
The Swapin Sales Team focused on the main business development initiatives, including:
Attending the London Blockchain Summit Event.
Conducting cold email outreach to iGaming companies.
Reaching out to potential business customers in the Metaverse platforms.
Preparing a list of potential customers for the SwapinCollect relaunch.
Overall, in February, we witnessed significant potential for changing the behavior of individual customers on the platform by providing them with a new KYC experience. On the B2B side, Swapin is getting ready for the upcoming SwapinCollect relaunch in March.