Introducing SwapinWidget: Easy On- and Off-Ramp for Web3 Platforms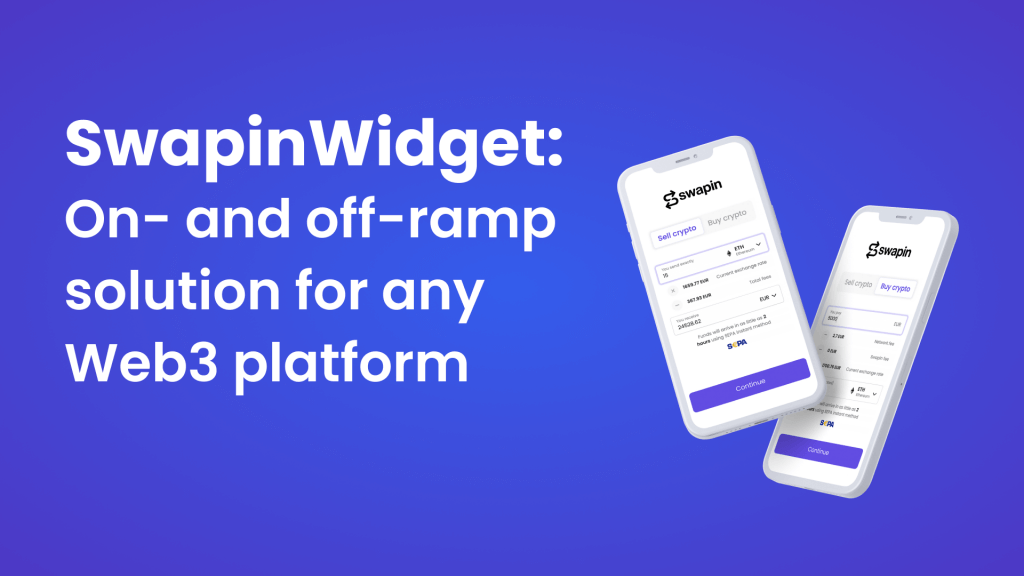 We are excited to announce the launch of SwapinWidget – our on- and off-ramp solution designed to effortlessly integrate with any Web3 platform, including exchanges, NFT marketplaces, dApps, and beyond. SwapinWidget is designed to simplify the way users transact with cryptocurrencies, offering a smooth experience for both buying and selling crypto.
Key Challenges in Web3 On- and Off-Ramps
In the Web3 space, the user experience often hits roadblocks, especially when dealing with cryptocurrency transactions. There are many challenges end users encounter when they need to buy or sell crypto while interacting with a Web3 platform.
Off-Ramp Obstacles: Often, users face the inconvenience of having to exit the app to complete their off-ramp transactions.
Slow and Complex Transaction: Users struggle with slow and multi-step transactions when off-ramping their crypto, which leads to delays and longer waiting times.
Security and Trust: When dealing with custodial solutions that hold customer funds, it can create the possibility of asset loss.
Solving Bank Compliance Issues: Banks often exercise caution with crypto-related transactions from crypto platforms or payment providers, leading to compliance inquiries when receiving money transfers from entities involved in crypto operations.
Transaction Limits: Many solutions serve relatively small transaction volumes, and moving hundreds of thousands of Euros may result in days of waiting for the transaction to be completed.
Why SwapinWidget is a Must-Have for Your Project
Swapin offers a simple, fast, and secure solution for both on- and off-ramp, ensuring that the end customer can complete any transaction they need to make within your Web3 project's ecosystem.
Here are the benefits of choosing SwapinWidget as your on- and off-ramp solution:
Plug-and-Play Integration: Simple integration with no onboarding or integration fees, making SwapinWidget an easy addition to your platform.
Safe and Non-Custodial: Regulated by the EU, Swapin ensures the safety of customer funds and data without the need for custody.
Crypto-Friendly Payments: Swapin's Dedicated IBANs simplify banking interactions for crypto transactions, reducing compliance-related complexities.
Flexible Transaction Volume: From small transactions of 5 EUR to larger volumes of up to 10M EUR, we are capable of handling a wide range of transactions.
License-Free Integration: Utilize Swapin's license, making the integration process hassle-free.
Crypto and Fiat Coverage: With support for over 10 top cryptocurrencies and transactions in EUR across 36 SEPA countries, we cater to a wide audience.
Fast Transactions: Majority of transactions are processed in under 5 minutes, demonstrating our commitment to efficiency.
Built-In Compliance: End customer KYC is included, ensuring regulatory adherence.
Who Can Benefit from SwapinWidget?
SwapinWidget solution is ideal for all types of Web3 projects that need crypto on- and off-ramping, such as:
Wallets: Enhance the user experience in crypto management.
DeFi Projects: Seamlessly connect DeFi and traditional banking.
Exchanges: Facilitate easy onboarding and swift cash-outs.
NFT Marketplaces and dApps: Offer comprehensive transaction options, focusing on your core offerings.
Metaverse projects and GameFi Platforms: Expand your transaction capabilities within virtual worlds and gaming platforms. 
SwapinWidget On- and Off-Ramp Integration
You can choose between two integration options, a redirect link or an embedded iframe integration, based on your platform's needs. Our comprehensive partners support includes personalized assistance from a dedicated account manager, ensuring a smooth integration process. The KYB (Know Your Business) verification is straightforward, aimed at establishing a secure and compliant partnership.
Transforming Web3 Payments Experience
SwapinWidget is not just another product; it's an innovative solution for Web3 platforms, enhancing both the efficiency and user experience of your project. It's a strategic partner that bridges the gap between cryptocurrency and traditional banking, and makes digital asset management more accessible and user-friendly.
Ready to elevate your platform's users' on- and off-ramping transaction experiences? For more details and to begin the integration journey, visit our website and contact our team via the form here. You can find our SwapinWidget API documentation here.
---
The cryptocurrency market is dynamic and subject to rapid changes. Stay informed by subscribing to our weekly industry updates newsletter on LinkedIn here, and joining our community on Telegram here.