What is a Dedicated IBAN and How Do They Work?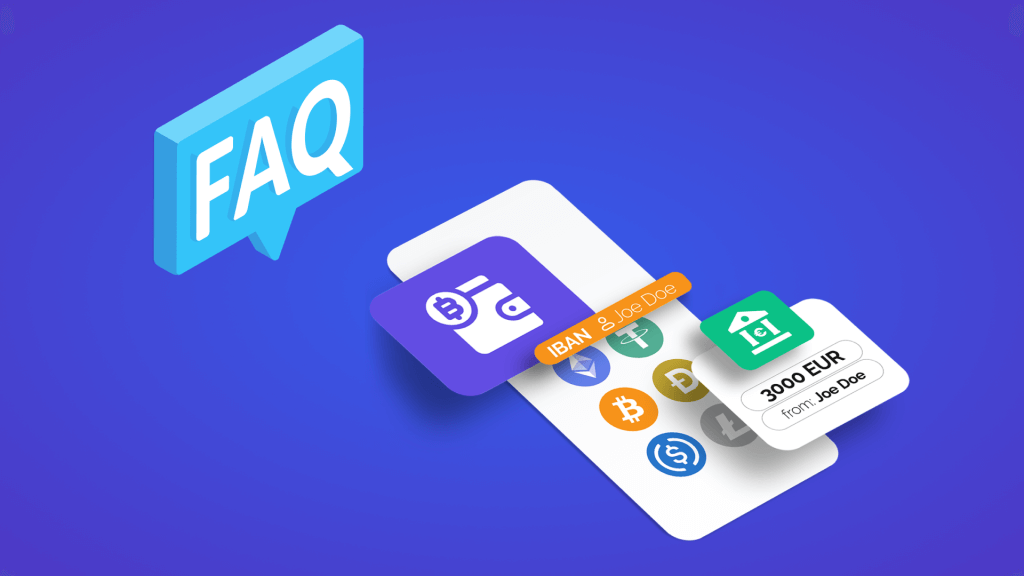 Here at Swapin, we continue to bring innovative solutions to our customers that bridge the gap between crypto and traditional banking. Our latest product feature, Swapin's Dedicated IBANs, is a significant step forward for the crypto payments industry because it solves the common concern of many crypto users – traditional banking systems oftentimes flagging your crypto-to-fiat payments. Swapin's Dedicated IBANs allow you to make crypto-to-bank payments that don't raise concerns for banks. This is achieved by issuing each customer a Dedicated IBAN, so that their payments arrive in the receiving bank account under their name.
As we have seen a lot of interest from our community towards Dedicated IBANs, let's discuss more in-depth what exactly they are, how they work and how you can start using Swapin's Dedicated IBANs today.
What is a Dedicated IBAN?
Dedicated IBANs are more than just a technical feature – they represent a shift in how crypto payments to bank accounts are done. At its core, a Dedicated IBAN is a virtual IBAN (International Bank Account Number) issued in your name. This solution allows you to make cryptocurrency to fiat currency (EUR or GBP) payments directly into bank accounts under your name or your business' name.
Whether you're an individual or a business customer in the European Economic Area (EEA), the UK, or Switzerland, with Swapin's Dedicated IBANs you can enjoy smooth transactions between crypto and banks like never before.
Why Is Swapin's Dedicated IBAN a Game-Changer?
Previously, when you made crypto-to-fiat payments using Swapin's solutions as a customer, our legal entity name was the sender to the receiving bank account. This is the case still with many crypto-to-fiat payment providers and cryptocurrency exchanges – when you are spending your crypto or converting it to fiat, there is an unfamiliar sender on the bank statement. Due to this, your transactions can often get flagged as it raises concerns for banks.
However, thanks to our latest Dedicated IBAN feature, our customers can now make crypto-to-bank transactions in their own name, overcoming banking limitations as there are no longer intermediaries on bank statements. Your name will be the sender, offering you convenience and confidence when dealing with transactions between crypto and banks.
How Can You Use Swapin's Dedicated IBANs?
If you're an individual customer looking for an efficient way to withdraw cryptocurrencies to your bank account in EUR or GBP using SwapinGet, or send money to your family and friends, and pay any EUR or GBP invoice using SwapinPay, Swapin's Dedicated IBAN allows you to do these crypto-to-bank payments on behalf of your name.
If you're a business owner seeking to streamline your crypto-to-bank transactions, including salary payments using crypto to your employees' EUR or GBP bank accounts, and settling fiat invoices and business expenses with partners using SwapinPay, or converting crypto from your wallet to your business bank account through SwapinGet, Swapin's Dedicated IBAN allows you to make all of these transactions under your business name, simplifying accounting and auditing processes.
How to Access Swapin's Dedicated IBANs?
You do not need access to this service nor request it manually. Swapin's Dedicated IBANs are automatically given to our individual and business customers who meet the requirements. For individuals, the Dedicated IBANs feature is available for Basic and Full verification levels. For business customers, the Dedicated IBAN feature is available for any verification level.
Swapin's Dedicated IBANs are exclusively for crypto-to-fiat payments initiated through Swapin only. They are not intended for any other types of transactions. You cannot send funds to your Swapin's Dedicated IBAN number as it's not a banking solution.
Currently, we do not display your Dedicated IBAN number on the dashboard. Once you complete your SwapinPay or SwapinGet payment, it will appear on the recipient's bank account statement.
How to Make Crypto Payments in Your Name?
Beginning to use Swapin's Dedicated IBANs is a simple process:
Complete the necessary verification process based on your individual or business requirements.

Begin making your crypto-to-fiat transactions directly through Swapin App and your Dedicated IBAN will show on the bank statements.
Crypto-to-Fiat Transactions in Your Name with Swapin's Dedicated IBANs
Don't miss out on this opportunity to simplify your crypto-to-fiat transactions with Swapin's Dedicated IBANs feature!
At Swapin, we commit to empowering our customers with innovative solutions for their crypto-to-bank payments' experience. Stay tuned for more product updates as we continue to improve our services to meet the evolving needs of our customers.
Should you have any questions or require further information, our support team is always here to assist you.
---
To stay updated with the latest news and industry insights, join our Telegram community and subscribe to our LinkedIn newsletter. Follow us on social media for more updates from Swapin.