Introducing SwapinBuy: Easy and Secure Way to Buy Crypto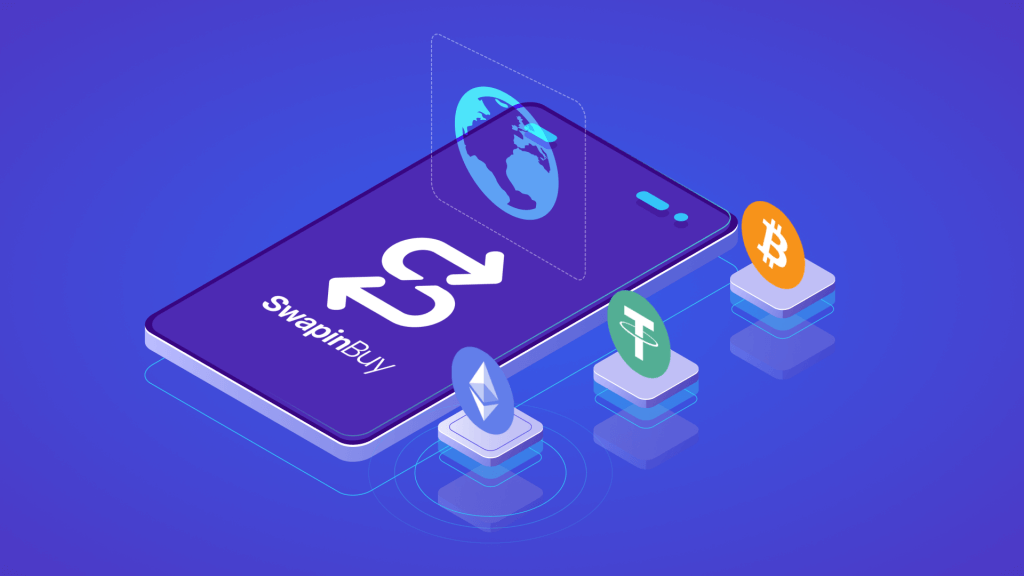 We're excited to introduce you to SwapinBuy – our new crypto on-ramp solution. With SwapinBuy, you will be able to buy cryptocurrencies using EUR directly from your bank account. It is now available for both our business and individual customers in the European Economic Area (EEA) and Switzerland. Let's dive into the details of SwapinBuy, its main benefits and how to begin using SwapinBuy today.
"Just imagine – now you can top-up your crypto wallet in every exchange, marketplace, or other Web3 platform without expensive card fees. On top of that, Swapin's Dedicated IBANs feature will make your crypto transactions smoother and faster than ever before."

– Evald-Hannes Kree, CEO and Founder of Swapin
SwapinBuy: Your Crypto On-Ramp Solution
SwapinBuy offers a simple, secure, and user-friendly solution for buying cryptocurrencies with EUR. This product is available for our individual customers with Basic and Full verification levels and our business customers (both verification levels 1 and 2) in the EEA (European Economic Area) and Switzerland.
Currently, SwapinBuy allows you to purchase USDT, BTC, and ETH using Euros. We support instant SEPA payments, with more payment methods and cryptocurrencies coming soon for your on-ramp transactions, so stay tuned!
For the first month, we are offering all of our users 0% Swapin Fee on your SwapinBuy transactions, so you only pay the network fee for blockchain transactions. The offer is valid until October 31st, so make the most of it and get swapping now!
Why Choose SwapinBuy
SwapinBuy offers 4 main advantages:
Dedicated IBANs: EUR payments from your bank account are made to a dedicated IBAN issued in your name, ensuring a smooth transaction experience.
Flexible transaction volumes: Whether you're buying crypto worth 5 EUR or 10M EUR, SwapinBuy supports various transaction volumes.
Non-custodial approach: Your purchased crypto is deposited directly into the provided crypto wallet; Swapin never holds your funds.
Send the crypto to any wallet: With SwapinBuy, you can purchase cryptocurrencies and send them to any wallet address.
How to Buy Crypto using SwapinBuy
It's simple. Here's how:
Log in to your Swapin account or Sign up if you aren't a customer yet. Navigate to the SwapinBuy section and click on 'Buy crypto.'
Fill in transaction details: Choose the cryptocurrency you want to buy and enter the amount of fiat you want to pay with.
Transfer fiat: Swapin provides a Dedicated IBAN issued in your name. Send fiat from your bank account to the provided IBAN.
Get crypto: Once Swapin receives your fiat payment, we will convert it to crypto and send it to the provided wallet within minutes.
We have also prepared a step-by-step video of the process. You can find it on Youtube here:
If your bank account supports Instant SEPA, it will take just a few minutes. In other cases, it may take up to 1 business day. You can use this IBAN checker to verify whether your bank account supports instant SEPA payments.
If you have more questions about SwapinBuy, you can read our FAQ here and our step-by-step guide on how to buy crypto using SwapinBuy here.
Buy Crypto with ZERO Fee using SwapinBuy
We believe in making crypto accessible and easy to use for everyone, and SwapinBuy is our next step towards this vision. With Swapin, buying, selling, or paying with cryptocurrencies is no longer a complicated process – we're here to simplify your everyday crypto transactions.
Don't wait— try SwapinBuy today, with ZERO Swapin Fee (valid until October 31st)!
At Swapin, we are dedicated to empowering our customers with innovative solutions that bridge the gap between crypto and traditional banking. Keep an eye out for more updates and product developments as we continue to improve our services to meet the evolving needs of our valued customers.
If you have any questions or require further information, reach out to our support team here.
---
Stay updated with the latest news and industry insights by joining our Telegram community and subscribing to our LinkedIn newsletter. Follow us on social media for more updates from Swapin.