In-Depth Review of MetaMask Sell Feature: Comparative Analysis with SwapinGet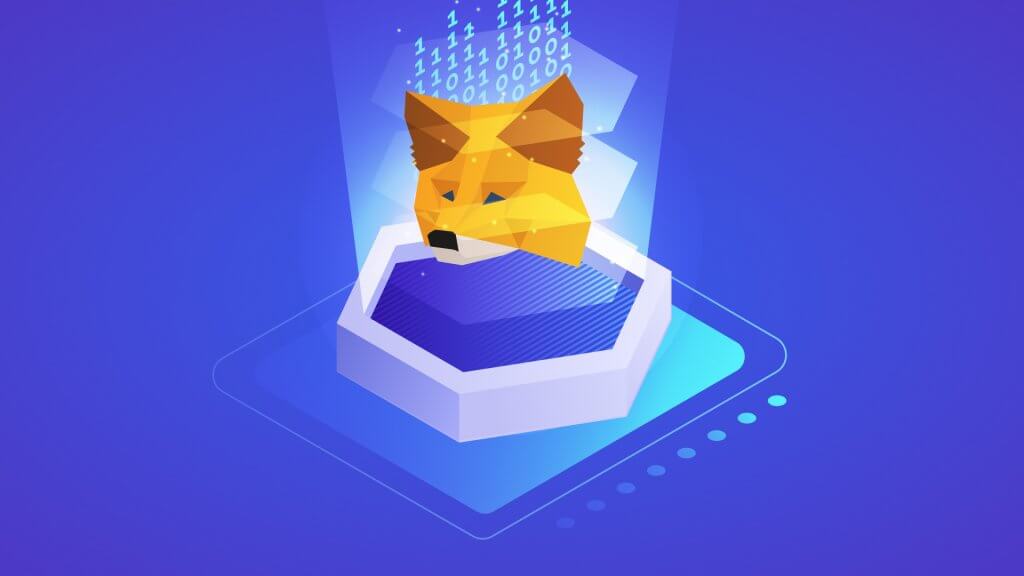 MetaMask, the popular crypto wallet, recently announced its newest Portfolio's Sell feature that allows users to cash out cryptocurrency to fiat currency (EUR, USD, GBP) directly into their bank account using MetaMask wallet. To offer this, MetaMask has partnered with providers like Transak or Moonpay (similar to their Buy flow). At the moment, it's only possible to convert ETH on Ethereum Mainnet to the fiat of your choice, and the feature is available in the U.S., UK, and parts of Europe.
To evaluate the convenience and efficiency of this new feature, we decided to test the off-ramping process step-by-step via MetaMask, and compare it with our own off-ramping solution, SwapinGet, that you can do from within your MetaMask wallet as well. Let's see the results.
During this comparative analysis, we found out these main differences in MetaMask Portfolio's Sell feature and SwapinGet solution:
| | | |
| --- | --- | --- |
| | METAMASK | SWAPINGET |
| Transaction volume available | 8.5ETH | Depends on your account limits |
| Transaction speed | 5 minutes | 6 minutes |
| Transaction fee | 4% | 1% |
| Payment made in your name | No | Yes |
| Cryptocurrencies supported | ETH (currently) | ETH, BTC, LTC, USDC, USDT + more |
| Fiat currencies supported | EUR, GBP, USD | EUR, GBP |
Now, let's go deeper into each off-ramping process with a step-by-step review.

How to Cash Out Crypto via Metamask Sell Feature
For this test, let's try cashing out Ethereum to Euros in a bank account. To begin converting crypto to fiat currency, we go to Metamask Portfolio, click "Sell" tab and "Get started". Then:
Choose our country and then select the token and network we want to sell from (currently they only support ETH).
We enter the crypto amount we want to sell (example 0.05 ETH). We tested that the maximum amount possible to sell is 8.5ETH.
Choose the fiat account destination in our region (bank account or PayPal balance).
Connect our MetaMask wallet.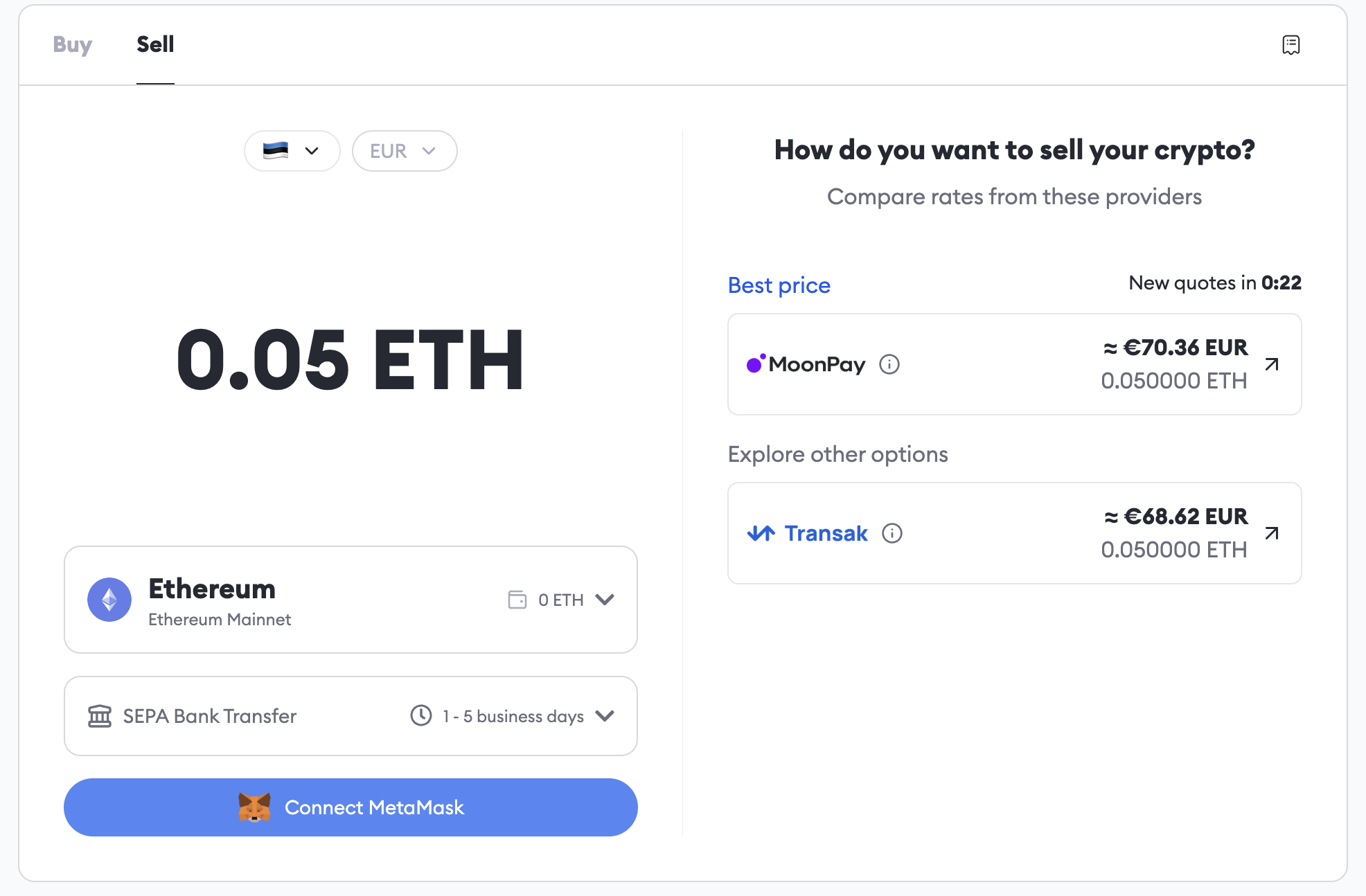 We can see different available providers in real time and select the best option to continue. In this test, we chose MoonPay as that was the better priced offer.
We will then be redirected to MoonPay's checkout window to sign in with e-mail (or via Google or Apple) and add our bank account IBAN number, then click "Continue".
Now we see a sell order window with base cost and processing fee. In this test, the fee was approximately 4%.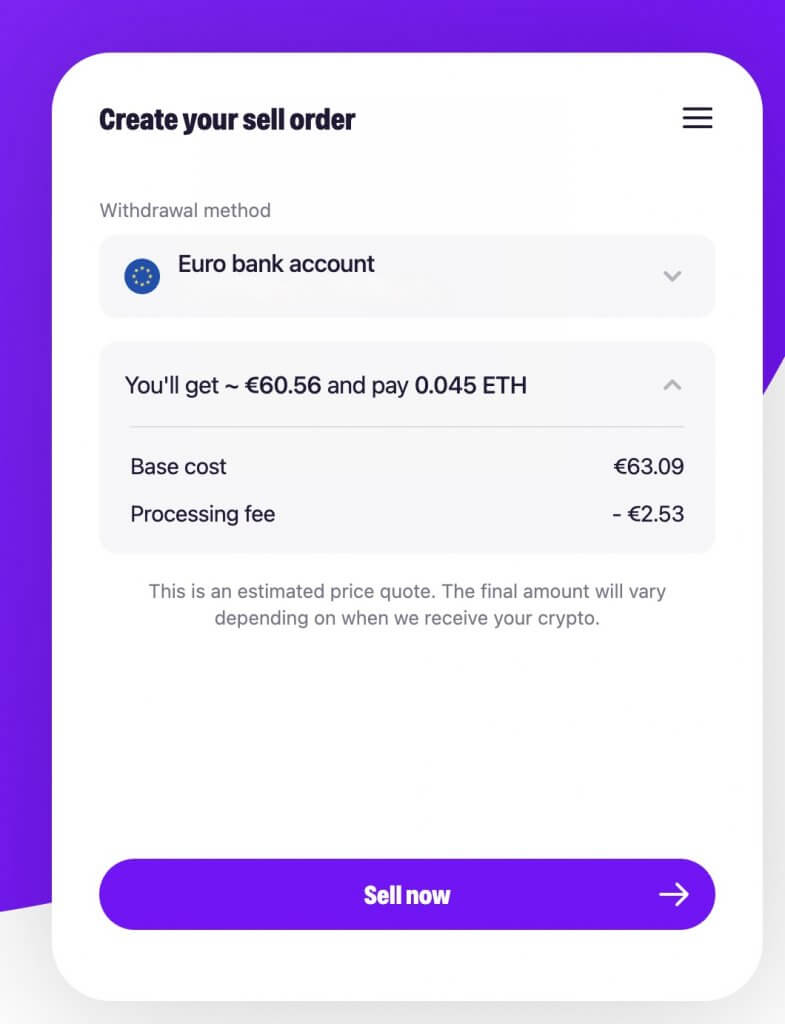 Then we click "Sell now" and we are directed back to MetaMask Portfolio.
Select "Send ETH to MoonPay" to send crypto from our wallet to our bank account.
Confirm the transaction in our MetaMask wallet and pay the gas fee.
Then, we see a window that says "Sending ETH" and it's being sent to MoonPay.
Once received by MoonPay, the window changes to "Processing" and it says it can take a few minutes. We see our transaction details in that window with Order ID, date & time, and destination.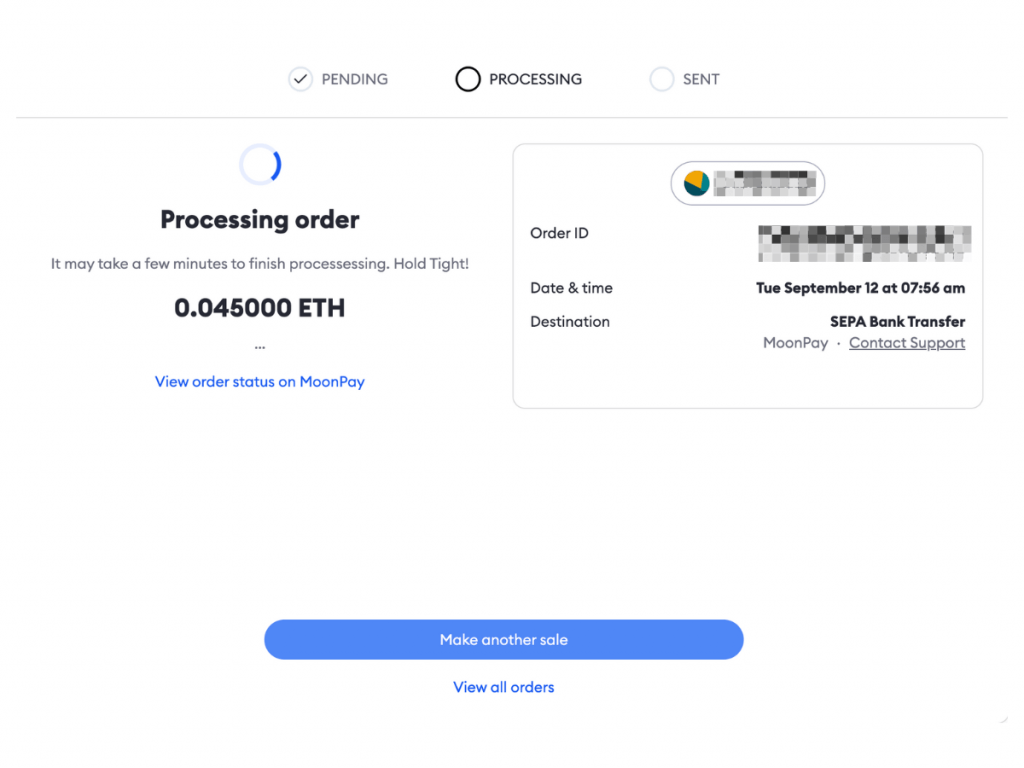 Once processed by MoonPay, we see the "Sent" window. Your order has been successful and the message says "it may take a few days to see the cash in your bank account". We see the EUR value, total fees, and amount received in this window.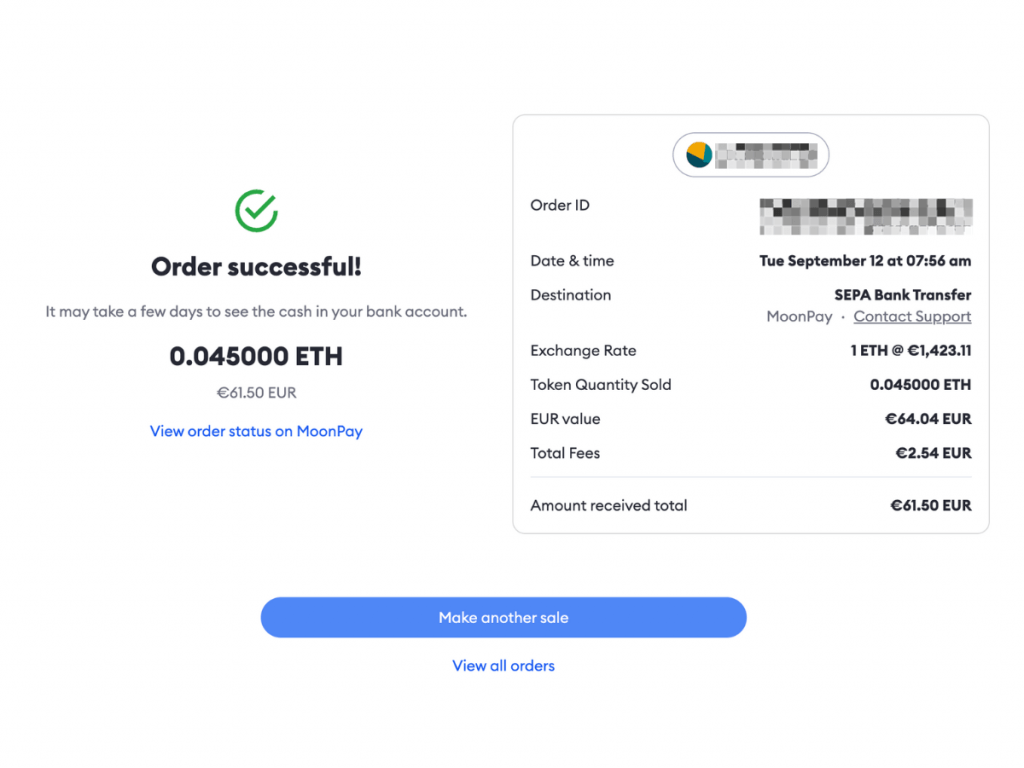 If we click "View order status on MoonPay" we see a window to track the order. Although it says there that "Bank wires may take up to 3-4 business days to arrive", the fiat currency (Euros) reached our bank account in 5 minutes from "MoonPay Technology Services Limited".
How to Cash Out Crypto via SwapinGet
Now, let's test the same process of converting Ethereum to Euros via our off-ramping solution SwapinGet. To begin converting crypto to fiat, for the first time, we go to Swapin App and navigate to SwapinGet's "Sell Crypto" button.
We create a new SwapinGet wallet address by giving it a name for easy access inside our MetaMask wallet going forward, so we remember the coin and fiat currency pair for future off-ramping. Select the coin (BTC, ETH, DASH, ETH, USDT, USDC and more) you want to convert and fiat currency (EUR or GBP) you want to receive. Enter your IBAN and address, click "continue".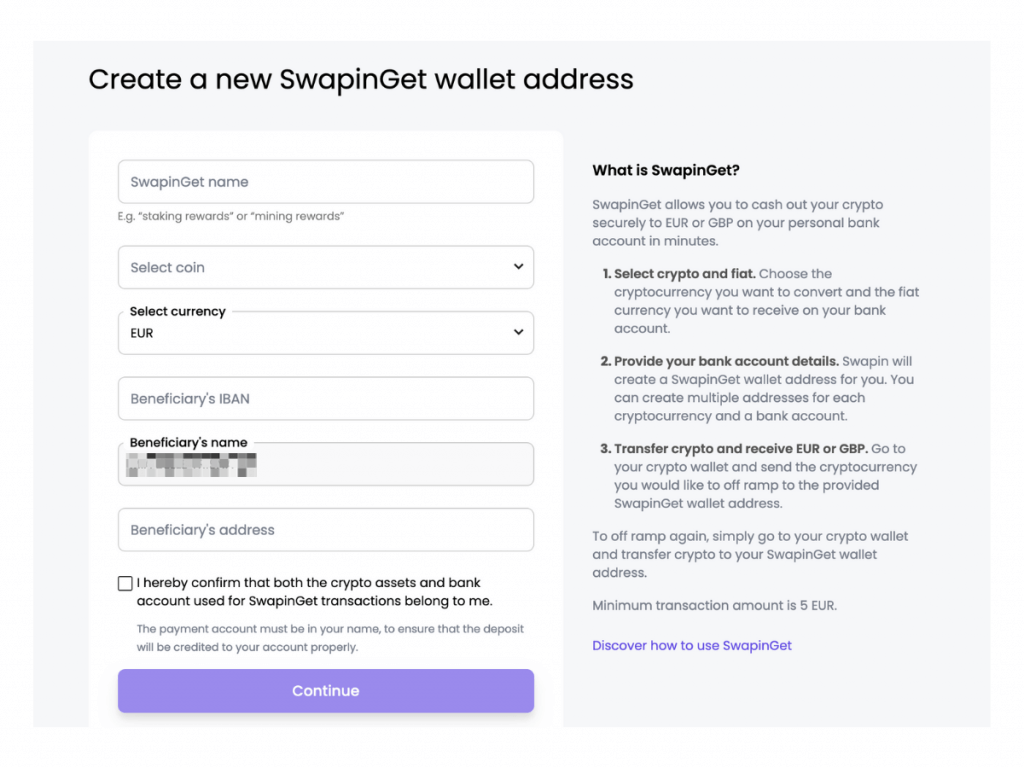 We will now see a window with all of our SwapinGet addresses – you can make as many of them as you want. Each address works for the combination of a specific coin, wallet address, and IBAN bank account.

We copy the wallet address and paste it inside our Metamask wallet to send crypto to.
Pay gas fee and send the desired amount of ETH to our SwapinGet address. It's possible to sell anywhere from 5EUR minimum up to account limits.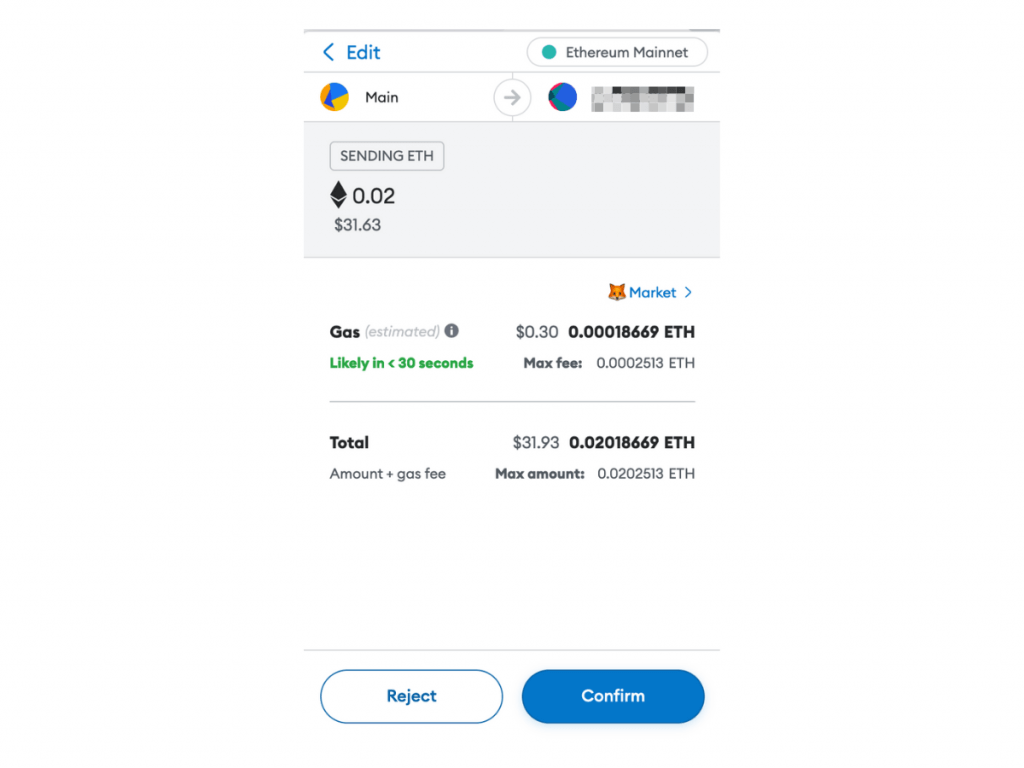 That's it! The transaction is complete and the fiat currency will arrive in our bank account shortly. During this test, it arrived in 6 minutes and under the sender's own personal name. In this test, the fee was approximately 1%.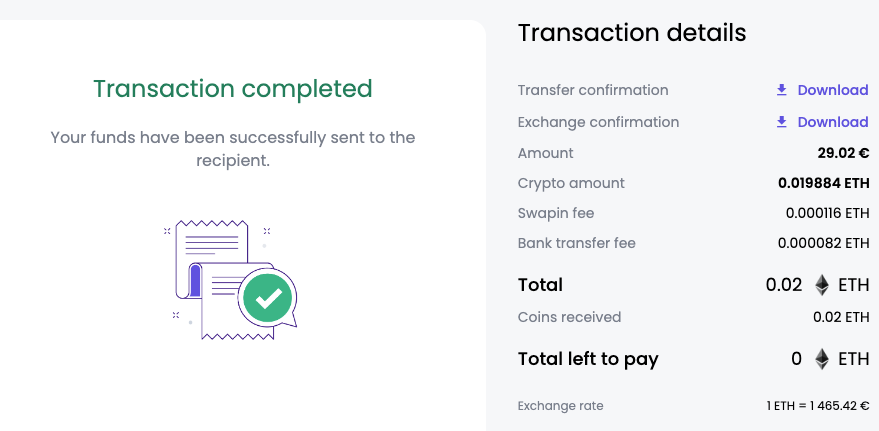 Going forward, we don't need to create new SwapinGet addresses anymore – just send crypto inside our MetaMask wallet to that specific wallet address we just created and it'll land as desired fiat in our bank account. Super simple!
Convert Crypto to Fiat in Your Bank Account
In our comparative review, we found that both MetaMask and SwapinGet offer off-ramping solutions, each with its own advantages. While MetaMask provides similar transaction speed, SwapinGet offers lower fees, higher transaction volumes, and the benefit of payments made in your name. The choice between the two ultimately depends on your specific needs and preferences.
If you want to find out more about SwapinGet, visit our website here.
Ready to try out SwapinGet off-ramping solution yourself? Sign up here.
---
For the latest industry insights, you can subscribe to our Weekly Crypto/Web3 Newsletter. To be part of a community of crypto enthusiasts, join our Telegram community and to explore more about Swapin, you can follow us on our social media platforms here.