Swapin Unveils Enhanced KYC Process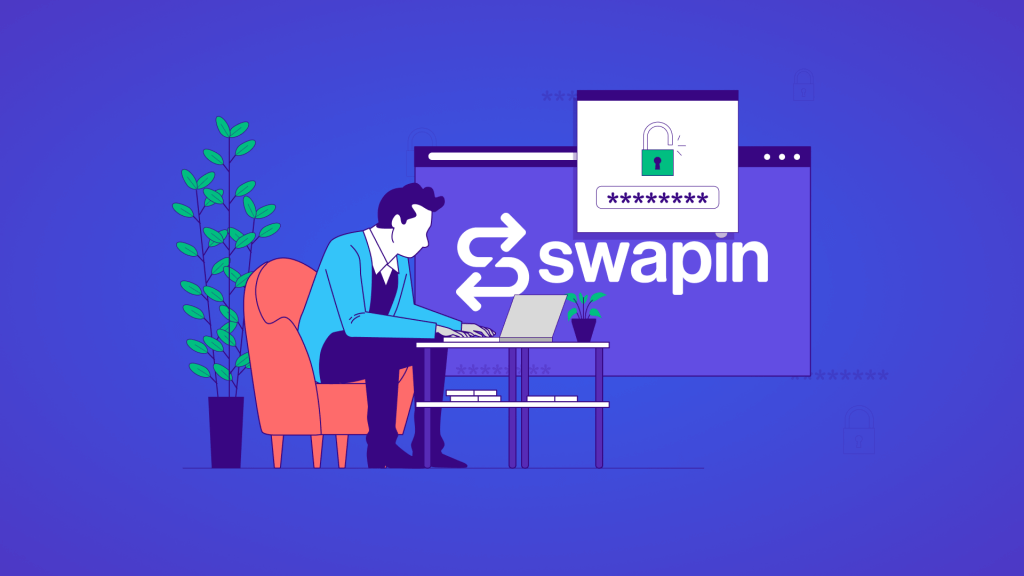 As a licensed company, registered as a virtual currency services provider, Swapin must adhere to the strict regulations in order to remain compliant but also to give our customers the most secure digital experience possible. This helps us to ensure the protection of all of our registered customers while they utilize and navigate on any of the various Swapin crypto-to-fiat payment solutions.
A More Efficient KYC Process
Swapin recently unveiled an advanced KYC process that will greatly increase efficiency by enabling new customers to begin using SwapinGet and SwapinPay for sending money on their bank accounts within minutes after signing up. Swapin is pleased to announce this to our current and future customer base. Previously, the KYC process took an extended amount of time to complete, as delays were common between new customer sign up and accounts being active.
What Are The Changes To The Swapin KYC Process?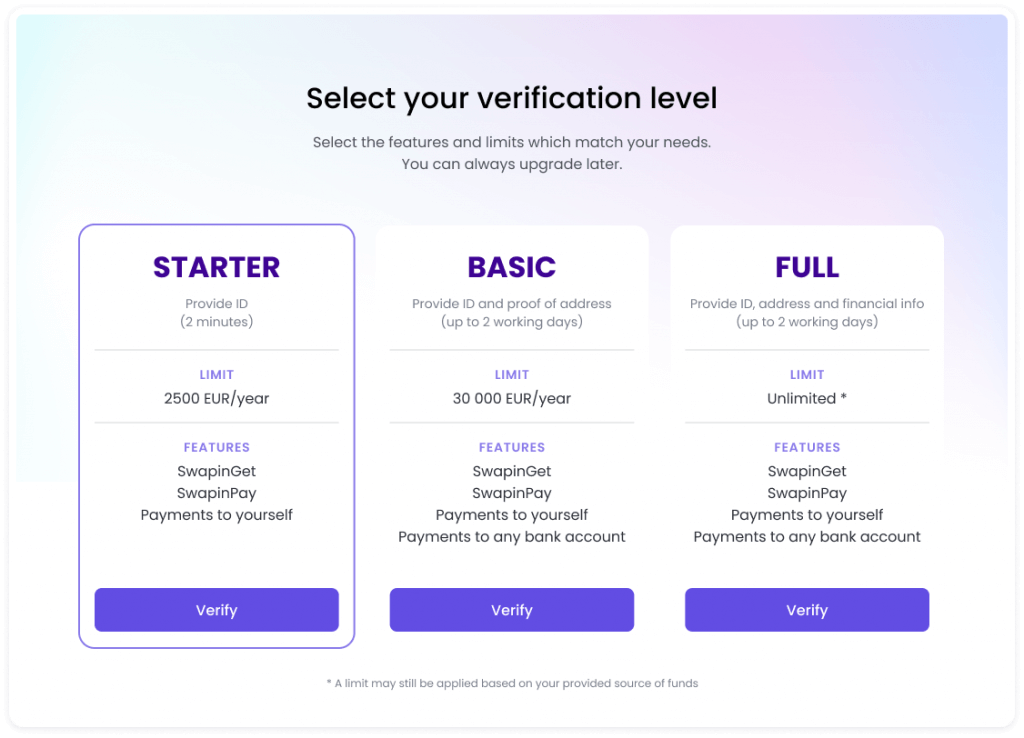 Swapin enables users to register in one of three verification levels depending on territory and region and other personal verification factors. Newly-registered Swapin customers on the 'Starter Level' will be able to complete KYC verification in under 2 minutes with the technology implemented in our enhanced KYC verification model. These customers are able to transact in total with as much as 2500 euros of combined value through SwapinGet and SwapinPay, which can only be used to make payments to their own SEPA bank accounts.
The manual requirements of the process have also been automated for new platform registrants. Thanks to the technology and support of Swapin partner, Veriff, customers no longer need to manually input their personal information. Veriff enables Swapin to gather this information digitally from the documents submitted by the new user.
In essence, the new KYC upgrades drastically reduce verification wait times, and reduce barriers to entry when onboarding with Swapin.
A Couple Of Ways In Which The New KYC Process Is More Efficient
Now, not only is the process cut from several hours to under two minutes in which new 'Starter Level' users can be up and running, but also the process of submitting information is less error prone. Since the information is in fact pulled from the technology developed by Veriff, the technology does checks and balances itself, instead of the need for manual processes.
Advances For New Basic Level Customers
The newly-implemented KYC process enables new individual 'Basic Level' customers to send and receive crypto payments after a verification and review process which can last from several hours through one business day. This tier of service enables registered users to send crypto-to-fiat payments to themselves or any other SEPA bank accounts.
'Basic Level' customers are required to submit ID and proof of address (POV) documentation such as a bill or official document issued in the customer's name. These customers have a threshold of 30,000 euros which they are able to send and receive in total transaction volume through SwapinPay and SwapinGet in a single calendar year.
SwapinGet enables customers to receive crypto and transfer to fiat manually in order to deposit into their SEPA bank account. SwapinPay enables customers to make crypto to fiat transfers and send payments to any SEPA bank account for bill payments and more.
Faster Process To Register For Full Access Level
As a part of the new version now released to the public, Swapin also enables 'Starter' or 'Basic' customers to upgrade to a 'Full Level' access at any time. Customers verified at the 'Basic Level' can do so by providing source of funds (SOF) information, while customers at the 'Starter Level' must provide both POV and SOF documentation.
Provided SOF information enables higher customer access by giving banks the ability to approve larger transactions in compliance with AML regulations. While unlimited transactions are allowed at the 'Full Level' access, members can still be limited based on information provided in the verification of SOF.
Making Web3 Finance Accessible to All
At Swapin, we believe starting your crypto-to-fiat payments should be as easy as possible. As a startup bridging Web3 finance with the Web2 world, we will continue delivering more convenient solutions to our customers. Stay tuned!