Mar 2023 investor report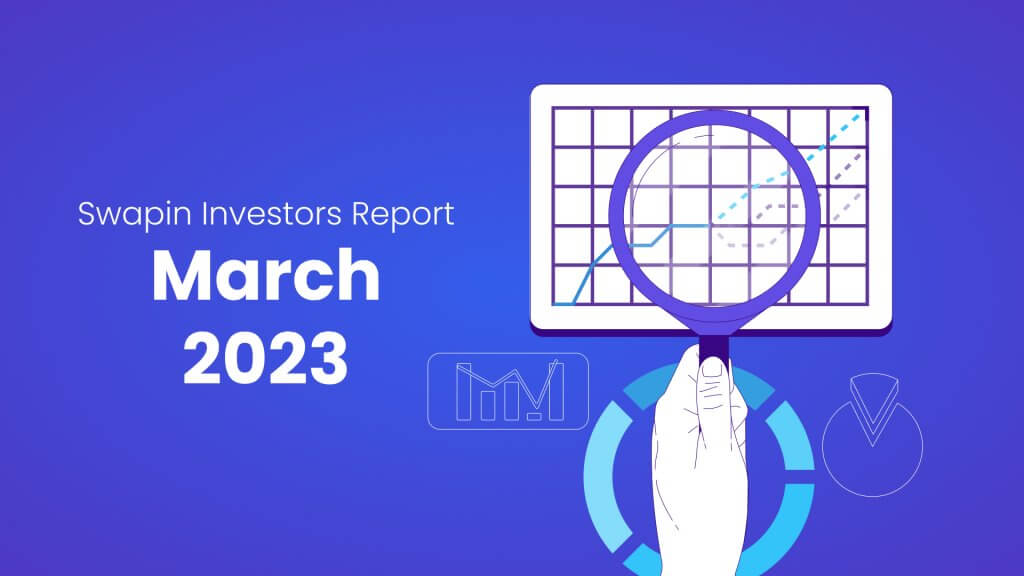 This month's focus was on merchants. Swapin successfully relaunched SwapinCollect, our integration-free product designed for merchants who wish to accept cryptocurrency while receiving fiat directly into their bank accounts. The product was initially introduced in the summer of 2022, and we have now integrated it into the Swapin App, allowing merchants to effortlessly set up payment links on their own. Moreover, we have introduced a transaction history dashboard, enabling your accountants to easily track all activities.
Key Numbers
In March 2023, Swapin witnessed growth in the following areas compared to the previous month, February 2023:
Overall amount of transactions increased by 20%.
Overall transaction volume increased by 11%.
Business customers completing their KYB verification saw a significant increase of 57%.
However, we observed a slight decrease in Swapin.com visitors, which consequently affected the number of customers completing their KYC verification and the count of monthly active customers conducting transactions in March. This decline can be attributed to our experimentation with different budgets and target audiences on Meta Ads, as well as testing new geographic locations for targeting.
Product Development
In March, our product development efforts focused on the relaunch of SwapinCollect. Here are the key developments:
New SwapinCollect Product Page: We launched a dedicated product page within our web app, offering detailed information about SwapinCollect and its functionalities.
Seamless Payment Link Requests: business customers can now request the SwapinCollect payment link directly from the Swapin App. A payment link will be generated automatically.
Enhanced Back Office Automation: We have implemented a partially automated flow to manage SwapinCollect requests on the back office side.
Marketing
The main focus for marketing activities in March was on SwapinCollect relaunch. For this launch we prepared and pushed live dedicated marketing materials:
Other marketing initiatives in March included Meta Ads running, targeting both B2C and B2B customers and testing new geos.
Business Development & Sales
The Swapin Sales Team had a primary focus on the relaunch of SwapinCollect this month. In addition, we pursued various other initiatives, such as:
Preparing and implementing a go-to-market plan for SwapinCollect.
Collaborating with the Metaverse and iGaming B2B verticals.
Cultivating new connections and leads acquired from the London Blockchain Economy Summit.
Providing support to B2B customers throughout their onboarding process and implementing enhancements to the KYB procedures.
Developing a comprehensive sales plan for the second quarter.
Participating in the Binance Tallinn Meetup, engaging in discussions with potential customers and partners.
Apart from the SwapinCollect relaunch, we have some significant news to share. Swapin has been selected as one of the 22 finalists in the Mastercard Lighthouse FINITIV program! Stay tuned for more exciting updates in April.