Apr 2023 investor report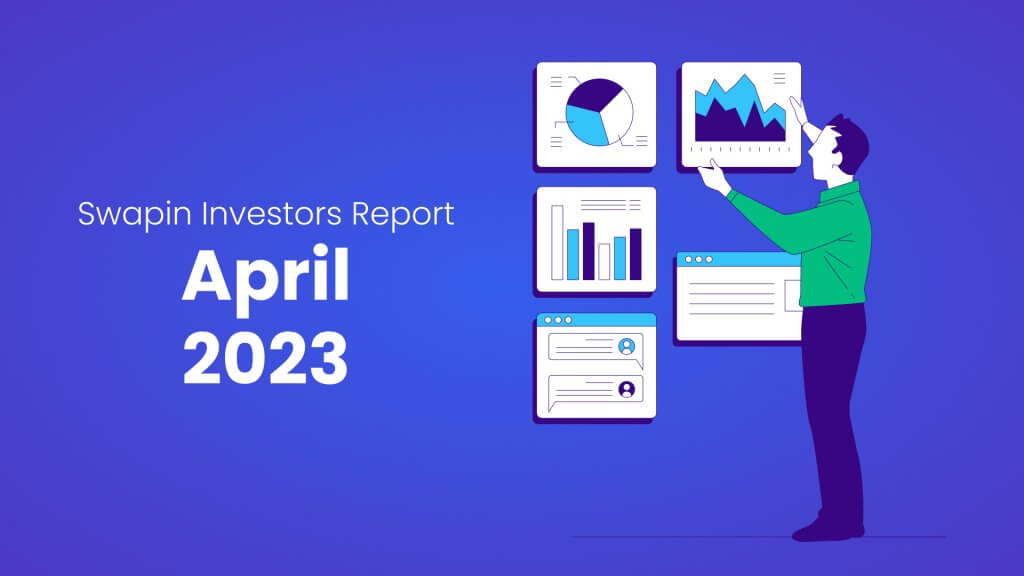 This was a very special month for Swapin team, we are so proud to be chosen as a finalist in the MasterCard Lighthouse FINITIV 2023 Spring Program. The program brings startups, banks, investors and advisors together to scale innovative ideas, and MasterCard handpicked Swapin and 14 other outstanding fintech startups from Nordics and Baltics to participate in it. For us, this means intros and pitch sessions with some of the most influential industry players, including MasterCard, SwedBank, SEB, AWS, and Fintech Mundi. An exciting month for a crypto-to-fiat startup! 
Key Numbers
In April 2023, Swapin experienced growth in the following areas compared to the previous month, March 2023:
Overall transaction volume increased by 30%.
34% growth in Swapin.com visitors.
2% increase in monthly active customers that made transactions.
The overall number of transactions and the count of KYCd/KYBd customers decreased compared to March. However, this decline was offset by the transaction volume generated by returning customers. Acquiring new customers for an off-ramp solution in the current market situation has proven to be quite challenging. Nevertheless, the consistent behavior of returning customers demonstrates the persistent demand for a reliable crypto-to-fiat payment solution.
Product Development
Here is the main focus of the product development team in April 2023:
Implementation of HawkAI as a provider for transaction monitoring, screening, and customer risk rating.
Exploration, preparation, and validation of new product ideas related to the API widget product, which will be the team's next major focus. The initial drafts and prototypes have been completed, and we are now planning the development phase for the upcoming months.
Update of SwapinGet GBP with improved validation.
Implementation of instant SEPA and regular SEPA validation and messaging.
Marketing
This month, the Marketing Team focused on the following initiatives:
Optimizing Meta Ads by incorporating retargeting strategies and testing new geos.
Conducting experiments with Programmatic Ads.
Covering Swapin's participation in the MasterCard Lighthouse FINITIV program on social media and the Swapin blog.
Preparing marketing materials for the Swapin booth at the NFT Tallinn event.
Creating a new version of the Swain Sales Presentation.
As a fun fact, we now have Telegram stickers available.
Business Development & Sales
In April 2023, the Swapin Sales Team was focused on the following:
Onboarding and providing support to new B2B clients acquired from leads and organically.
Attending ECOM21 in Riga to explore new partnership opportunities and generate leads.
Gathering data for case studies with key partners.
Launching the Gymstreet Metaverse x Swapin collaboration and announcing it on both platforms.
Participating as a speaker in the Gymstreet Metaverse Webinar.
Joining the Crypto Valley Association and announcing the partnership with Swapin.
Swapin is excited to be part of the MasterCard Lighthouse FINITIV 2023 Spring Program. This opportunity, along with our other product, marketing, and sales initiatives, enables us to build connections and create new products in partnership with the traditional financial system, bringing us closer to our mission of making crypto as accessible as any other currency.