Introducing All-New Swapin Product Names For 2023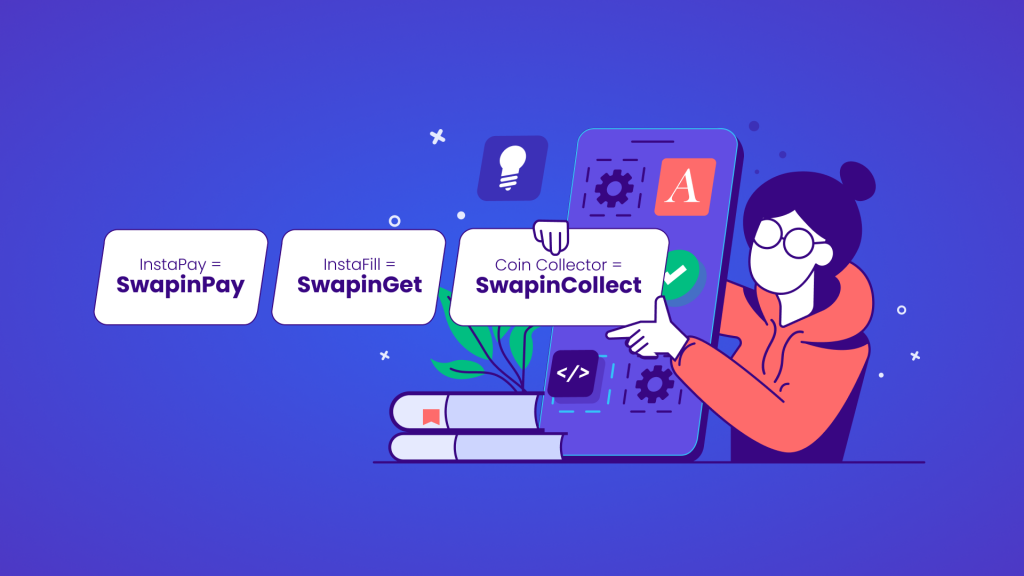 The Swapin team continues to innovate and strategize for the future. We are proud to reveal that several Swapin products have been rebranded with new names, further aligning with the message of convenience and simplicity across all of our leading crypto-to-fiat services.
Here is everything you need to know about SwapinGet, SwapinPay, and SwapinCollect (formerly, InstaFill, InstaPay, and CoinCollector).
Why Rebrand Select Swapin Products & Services?
As you may be aware, Swapin began last year with a significant rebranding from PiixPay to Swapin, representing the growing range of crypto-to-fiat products and services and the proliferation of cryptocurrencies globally.
This year, we are once again refining our marketing messaging and have rebranded our three key products: InstaFill, InstaPay, and CoinCollector. InstaFill has become SwapinGet; InstaPay is now SwapinPay; and CoinCollector has transformed into SwapinCollect.
The Swapin mission is to connect crypto to the world of daily payments to make spending and using crypto as easy as any other form of money. We also sought to make the names of our products better aligned under the Swapin umbrella and easier to remember and understand.
Introducing: SwapinGet, SwapinPay, and SwapinCollect
SwapinGet allows users to turn their BTC, ETH, USDT, and other coins into EUR or GBP and receive the funds in a personal bank account. The entire process takes no more than a matter of minutes, eliminating the need to manually exchange cryptocurrencies into fiat and move it to your EU bank account. By setting up a convenient SwapinGet wallet address, all it takes is a quick crypto transfer, and you can top up your bank account with fiat.
SwapinPay enables fast payments in EUR or GBP to any EU bank account by sending Bitcoin, Ethereum, and other top cryptocurrencies, which are instantly converted into fiat. It is now easier than ever to use crypto to send money to friends and family, pay bills like rent or insurance, or buy goods online. SwapinPay takes away the volatility risk associated with sending and receiving cryptocurrencies by locking the exchange rate for 30 minutes while the transaction takes place.
With SwapinCollect, businesses can accept crypto immediately without all the risk, accounting issues, and more. Cryptocurrency transactions cannot be reversed, offering unique business benefits such as no chargebacks. A rapidly-growing audience is now within reach, with no fees ever charged to the business, as customers cover the costs when they use cryptocurrencies to pay for goods, services, and more using a custom payment link. Contact Swapin sales to access SwapinCollect and other business tools.
Stick With Swapin For More Future Updates
These essential Swapin services will be updated within the Swapin app in the coming days. Please stay tuned to the official Swapin blog for more updates and information. You can also follow Swapin on Facebook, Twitter, Telegram, or LinkedIn. Be sure to try the Swapin app today!