How to Buy Any Car with Crypto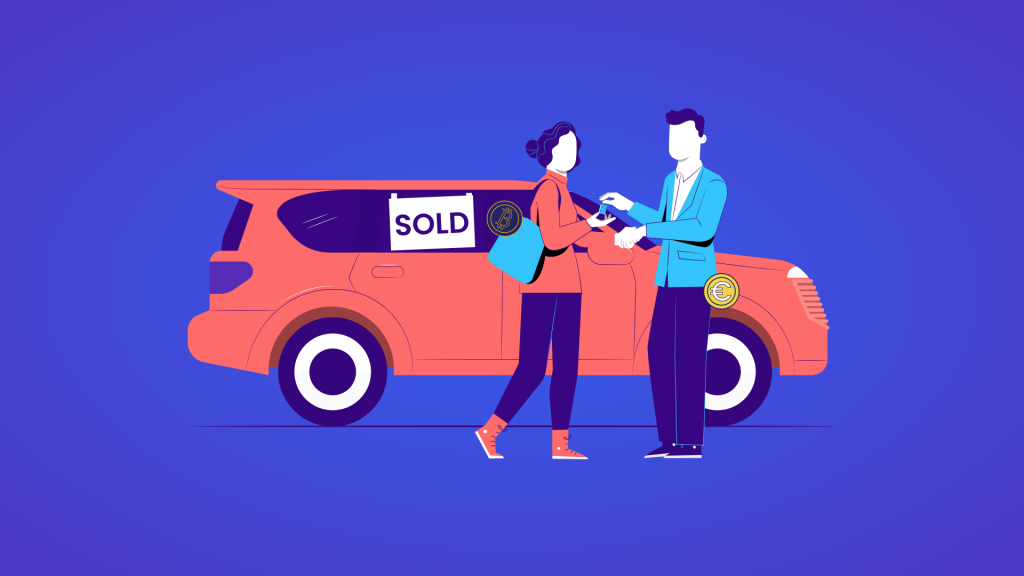 So, you're a crypto enthusiast with your Bitcoins, Ethereum, or USDT securely stored in your crypto wallet. But can you actually use them in your daily life, like buying a car, for instance? While many automotive brands, like BMW and Tesla, have started accepting crypto, what if your local dealership still insists on invoicing you in EUR or GBP? Don't worry, we have the perfect solution for you. Allow us to introduce SwapinPay, the user-friendly crypto payment solution that enables you to pay for your dream car using 10 TOP+ cryptocurrencies, while the dealer receives fiat money in their bank account instantly. Get ready to embark on a seamless and secure car buying process like never before.
Why Choose Crypto for Your Car Purchase?
The crypto market may not be at its peak currently, but there are still many reasons why customers might want to spend their crypto. This is particularly relevant for individuals who receive income in cryptocurrency. Additionally, miners, traders, and stakers who use crypto to generate additional income may wish to convert it into real-world assets, such as a new car. However, it's worth noting that many dealerships still prefer to avoid dealing with Web3 payments and only accept traditional fiat currencies like EUR or GBP. That's where Swapin comes in with a solution that allows you to pay any EUR or GBP invoice from a car dealership using your crypto.
How to Buy Your Dream Car with SwapinPay
SwapinPay is here to simplify your crypto car buying experience. Our solution supports a wide range of popular cryptocurrencies, giving you the flexibility to choose the one that best suits your needs. Purchasing your dream car with crypto is a breeze with SwapinPay. Here's a step-by-step guide:
Create a Swapin account: Visit our website and sign up for a free account. We'll guide you through the setup process quickly and smoothly.
Complete your verification: To ensure a seamless crypto-to-bank transaction, we require a know your customer (KYC) process to verify your identity. Depending on the price of the car, you'll need to apply for either Basic or Full verification level.
Start a new SwapinPay transaction: Navigate to the SwapinPay menu and fill in all the necessary information from your car dealership invoice. Choose the fiat currency (EUR or GBP) that the dealer will receive, as well as the cryptocurrency you wish to pay with. Fill in the beneficiary's name, address, IBAN, and payment description/invoice number.
Send crypto from your wallet: Swapin will provide you with a crypto wallet address where you can send your chosen cryptocurrency. Once the transaction is initiated, you'll have 30 minutes to complete the transfer. During this time, the rates will be locked, ensuring that the dealer receives the exact amount of EUR or GBP specified on the invoice.
Swapin converts crypto to fiat and sends it to the bank: Once we receive your crypto, it will be automatically converted to EUR or GBP. The fiat money will then be sent directly to the car dealer's SEPA bank account, ensuring a fast and secure transaction for a minimal fee.
By following these simple steps, you can seamlessly purchase your dream car with crypto using SwapinPay.
Is it safe to Buy a Car with Crypto using SwapinPay?
Swapin prioritizes the security and safety of your crypto-to-fiat transactions. As a non-custodial solution, we ensure that your funds are not held by us. Operating under a VASP license in the EU (Estonia) and proudly being a trusted member of the Estonian Chamber of Commerce, we are a reliable partner for your crypto payments. In recognition of our commitment to security, we have been selected by MasterCard for their Spring 2023 FINITIV Program, highlighting our dedication to providing a secure platform that bridges Web3 payments and the traditional banking system. With over 6 years of experience in the crypto market, we fully understand the significance of instilling confidence in our valued customers.
Transform Your Dealership with SwapinCollect
If you're a car dealer looking to enter the world of crypto, SwapinCollect is the perfect solution. By accepting crypto payments through SwapinCollect, you can receive fiat GBP or EUR directly into your bank account while providing your customers with a seamless payment experience. Say goodbye to the complexities of pricing in a volatile crypto market and start embracing the benefits of accepting cryptocurrencies in your dealership. Learn more about accepting crypto with ease on our SwapinCollect page or book a demo call now, and our sales team will be happy to answer any questions you may have.
Embrace the Future of Car Purchases
Swapin is revolutionizing crypto-to-fiat payments, making it as seamless as using any other currency. Say goodbye to complicated conversions and multiple intermediaries. With Swapin, you can effortlessly use your crypto for payments in fiat currencies like EUR or GBP, enabling you to make purchases with ease. Experience a future where crypto becomes an integral part of everyday transactions, starting with Swapin.
Experience the simplicity and security of buying a car with crypto using SwapinPay, or start accepting crypto as a car dealer with SwapinCollect. Sign up today and embark on the car buying journey of tomorrow!