How Swapin & SwapinCollect Is Helping E-Jewels Connect With Crypto Users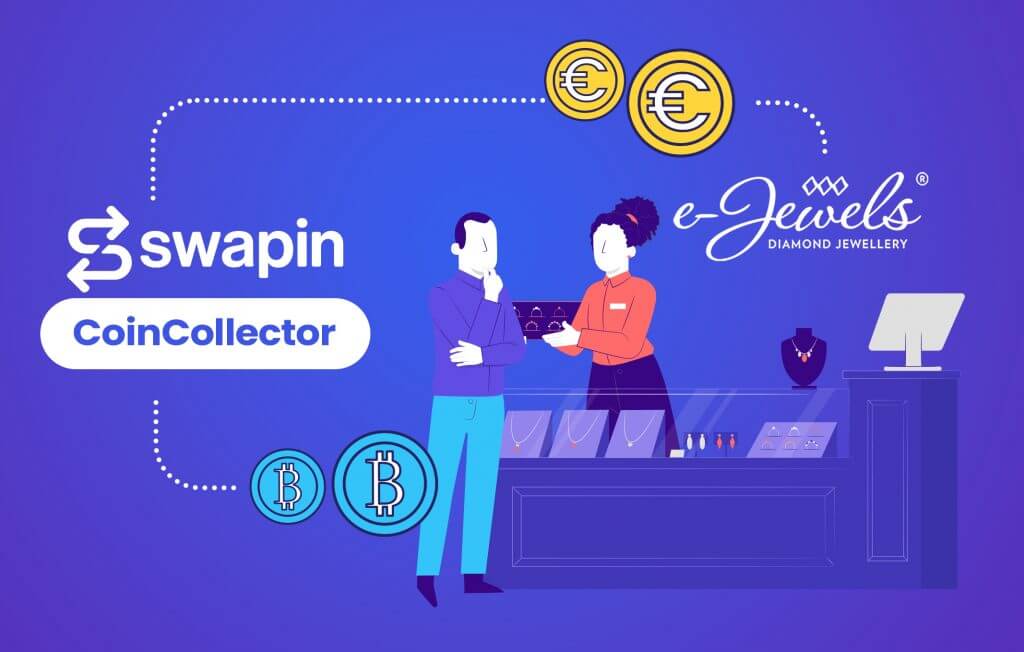 Swapin solutions offer a diverse range of benefits to both B2C and B2B segments. Both categories are areas where Swapin sees extensive expansion opportunities and are top priorities in the updated company roadmap.
As part of our continued efforts to bridge the gap between digital assets and traditional worlds, we are proud to reveal a new partnership with premier online luxury jewelry retailer E-Jewels. The exclusive partnership allows E-Jewels to leverage the power of SwapinCollect, and, soon, the SwapinCheckout.
All About E-Jewels And Why They Chose To Partner With Swapin
E-Jewels is one of the largest luxury diamond retailers in all of Europe. The company is known for its pristine cut and near-flawless diamonds set in a variety of precious metals. The website offers everything from diamond rings to necklaces, bridal sets, and more.
E-Jewels CEO Henrik Hald noticed the constant requests from customers asking to pay for high-end luxury items with crypto assets. Hald also couldn't ignore the fact that the demand was coming from all over the globe. "Cryptocurrencies are fast, borderless, and secure, making them increasingly a preferred way of doing business – in particular when it comes to luxury items," he explained.
"We wanted to find a way to respond to all of this demand, but there wasn't yet an easy way to accept crypto from our customers," said the E-Jewels CEO. "Monitoring client behavior indicates that they are more likely to purchase luxury items like a Rolex or diamonds, for example, with crypto profits," Hald added.
How Swapin Solutions Help Brands Become Trendsetters
Among the company's many goals, Henrik Hald wanted to make E-Jewels a leader in connecting traditional worlds like diamonds and gold jewelry with the innovative crypto technologies of today.
That is where Swapin solutions came into the conversation. E-Jewels is leveraging SwapinCollect technology which allows businesses to accept cryptocurrencies that are immediately converted into EUR and transferred into a merchant's bank account without all the fuss and frustration related to accounting, and conversion rates, or regulatory compliance.
With two primary locations in Tallinn, Estonia, and Denmark, Copenhagen, E-Jewels can now reach customers from across the globe using SwapinCollect. "Swapin solutions allow us to create revenue streams we couldn't previously reach due to distance or because there wasn't previously an easy way to accept cryptocurrencies from our customers," E-Jewels CEO Henrik Hald said about the partnership. "We are excited to leverage E-Com in the future along with whatever Swapin comes up with next," he added.
Swapin Solutions Explained: The Best In B2C And B2B Services
Swapin also offers several B2C products – SwapinGet, SwapinPay, and soon, SwapinBuy – as well as another B2B product called SwapinCheckout. SwapinCheckout is an all-in-one crypto-accepting e-commerce solution. It allows businesses and merchants to quickly and easily implement a payment widget into any website or online storefront and accept cryptocurrencies from eager customers. Best of all, Swapin converts these funds into EUR and deposits them to the merchant's bank account in the blink of an eye.
"SwapinCheckout is just like the classic e-commerce checkout process, but with crypto. Instead of selecting a credit card, choose a coin and complete the simple steps of the checkout process," explained Swapin CEO Evald-Hannes Kree. The service is designed to make it easy for businesses as well as their customers, with plenty of flexibility for both.
"With this service, we're also supporting popular merchants plugins, such as WooCommerce, Magento, and Shopify," continued Kree. "Competitors usually solve just one problem," he explained, adding, "Swapin solves three at once."
"The first problem we address is creating a bridge between crypto and bank accounts, so funds move from crypto to EUR in a flash. The second problem we solve is volatility risk – merchants will always receive the amount of money they expect and don't have to deal with the constant fluctuations of cryptocurrency prices. Finally, we solve the accounting issues for businesses and keep track of all cryptocurrency transactions in the Swapin dashboard," Kree outlined.
"We are excited to bring these solutions to E-Jewels as part of our ongoing partnership," said the Swapin CEO.
Stay Tuned To Swapin Official Channels
Stay tuned to the Swapin blog for more updates on other exciting Swapin partnerships and more in the weeks ahead. You can also follow Swapin on Facebook, Twitter, Telegram, or LinkedIn.
Be sure also to try Swapin and make your first deposit today and access the future of finance. Swapin is a pioneer in crypto-to-payment solutions, catering to both B2C and B2B segments with a wide range of proprietary products and services. Click here for more information about Swapin or to join the Swapin team!