Check Out The Renewed & Revamped Swapin 2022-2023 Roadmap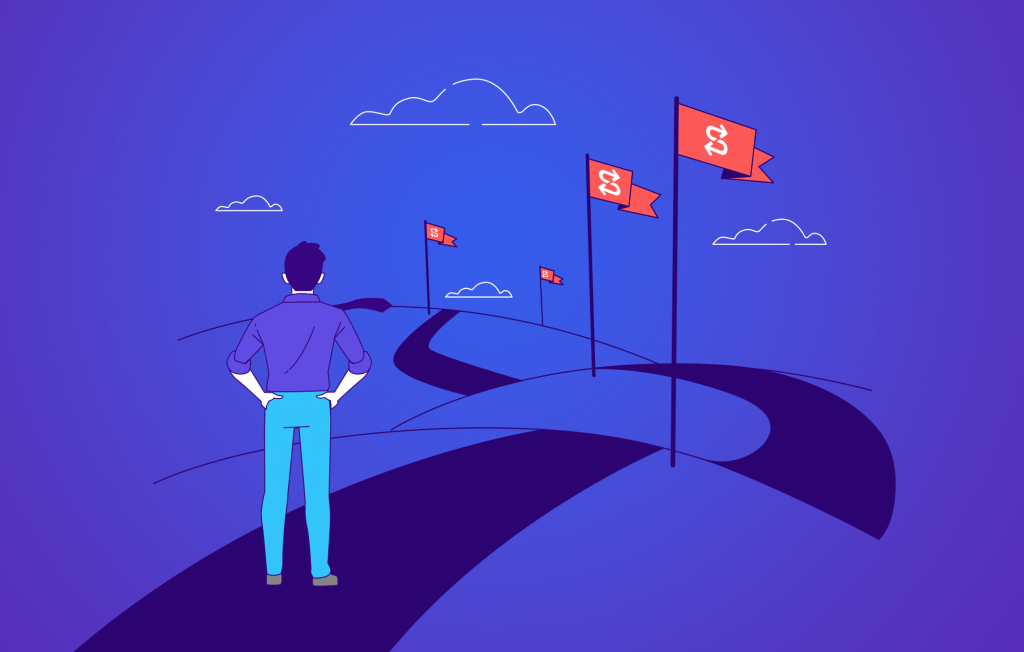 The Swapin name (formerly PiixPay) isn't the only thing that has been refreshed to better represent the results of a successful €1.68M funding round and a new team comprised of top industry talent – we are also proud to bring you a closer look at the ambitious new Swapin 2022-2023 company roadmap.
Here are all the exciting updates, features, products, and improvements Swapin users can expect throughout the course of the year ahead and beyond.
Q2 2022
Swapin Application Refresh v1.0
The Swapin development team is preparing an updated app experience with a completely new design and user interface experience. Several improvements have been added based on listening to customer feedback, market research, and extensive behavioral data analysis.
Affiliate Partner Program Debut
We want Swapin to grow, and we want you to be part of it! The Swapin affiliate program will allow our users to easily share a link that refers new users and businesses to the platform. Each new user will generate referral income. Users will be offered promotions to share with others and attract new signups to Swapin.
Multi-Currency Support
Currently, Swapin solutions support crypto-to-fiat payments denominated in euros. When crypto payments are received, a corresponding bank account will immediately receive euros. In the future, support for British pounds will be added. The update will also contain the infrastructure to support different currencies in the future faster.
Instabuy Feature
In addition to the already available B2C products – SwapinGet and SwapinPay – Swapin will release the SwapinBuy feature that allows users to purchase any of the major cryptocurrencies in just a couple of clicks. Crypto assets will be immediately transferred to a provided wallet like MetaMask. Card payments will also be added through a partnership with payment gateway company Checkout.com.
Q3 2022
New Crypto Asset Support
For Swapin to become the bridge between crypto assets and traditional finance, many roads must lead to this bridge. By that, we mean we need to connect many assets, euros, and pounds on the fiat side and as many digital assets as possible on the crypto side of the equation. In Q3, Swapin will add several new altcoin cryptocurrency assets in addition to majors like BTC, ETH, LTC, etc.
Partner Widget Release
The partner widget release will enable an on-ramp that allows clients with fiat to buy crypto, as well as an off-ramp solution for merchants and their clients to convert crypto profits from margin trading, NFTs, DeFi, Play-To-Earn, and more into cash. Debit card payments will also be accepted.
Merchant Portal
With Swapin's B2B solutions growing rapidly, we will introduce an exclusive merchant portal for business owners or analysts to review transactions, manage customer data, and much more. Swapin's goal is to allow businesses to access a full suite of crypto-to-fiat payment solutions on the same level as traditional finance.
Virtual IBAN
In Q3 2022, Swapin will introduce support for virtual IBAN accounts to truly bridge the gap between crypto payments and traditional finance on one platform. A virtual IBAN will allow clients to send money on their own behalf, and not on behalf of the company as it currently stands.
Q4 2022
Swift Payments
Swapin will – like many traditional, regulated financial entities – in the future, accept SWIFT payments. The Society for Worldwide Interbank Financial Telecommunication, or SWIFT for short, is a global payments system that connects banks to other banks across borders and helps to transmit transaction instructions to financial institutions worldwide.
Multilingual Mobile App (Google Play, Apple App Store)
An all-new multilingual mobile app will roll out later this year as a free download via the Google Play Store for Android devices and the Apple App Store for iOS devices. Swapin users will be able to access all of our innovative products and services from anywhere in the world, right from the palm of their hands.
Swapin Application Refresh v2.0
The main Swapin app will get yet another design update and refresh based on customer feedback, market demand, and internal company KPIs. Swapin developers are always hard at work on planning the next several phases of app updates. More improvements are slated for the future.
Updated E-Com Plugins For Major Platforms
Currently, SwapinCheckout, Swapin's easy-to-integrate crypto-to-fiat payments widget, works as a plug-and-play setup compatible with several top e-commerce solutions like PrestaShop, WooCommerce, and others. In the future, this support will be expanded so that any business utilizing any platform can take advantage of Swapin payment solutions. 
Q1 2023
Electronic Money Institution License
At the start of next year, Swapin expects to obtain an Electronic Money Institution license. An Electronic Money Institution license will allow Swapin to become a full-fledged payment service, mimicking many of the solutions major banks provide. Services include buying Bitcoin and exchanging it for EUR, for example, then making a transfer. It also opens the doors for things like wire transfers, bank cards, and other traditional products and services – further acting as a bridge into the world of crypto.
Check Swapin Official Channels For Roadmap Updates
Stay tuned to the Swapin blog for more details on when to expect these exciting roadmap updates to become available. You can also follow Swapin on Facebook, Twitter, Telegram, or LinkedIn.
Be sure also to try Swapin and make your first deposit today and access the future of finance. Swapin is a pioneer in crypto-to-payment solutions, catering to both B2C and B2B segments with a wide range of proprietary products and services. Click here for more information about Swapin or to join the Swapin team!